---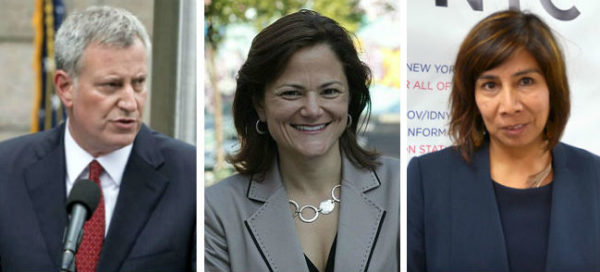 Mayor Bill de Blasio, Speaker Melissa Mark-Viverito (above middle) and DCA Commissioner  today announced the City's victory in the legal battle to license and regulate the car wash industry. Following a successful court ruling, the Car Wash Accountability Law, which provides DCA licensing and regulatory authority over the industry will go into effect when the judgment is entered. The ruling provides the City with another tool to protect consumers and ensure a safe marketplace for all New Yorkers. The bill, Intro. 125-B, sponsored by Speaker Mark-Viverito, was signed into law by the Mayor on June 29, 2015. The bill was originally heard in the Committee on Civil Service and Labor, chaired by Council Member I. Daneek Miller.
Harlem Speaker Melissa Mark-Viverito's Remarks At The MTA Oversight Hearing (Video)The [easyazon_link identifier="1628872764″ locale="US" tag="harlemworld-20″]New York City[/easyazon_…Aug 11 2017harlemworldmag.com
"This is a victory for workers, consumers and the environment," said Mayor de Blasio. "We now have the tools necessary to enforce protections for consumers and the car wash workers, who for too long have been vulnerable to mistreatment. My promise to New Yorkers is simple – we will do everything we can to ensure you get the treatment and protections you deserve."
"The City Council is proud of its on-going work to champion the rights of hardworking carwasheros across the five boroughs," said Speaker Melissa Mark-Viverito. "Our Car Wash Accountability Law brings much-needed protection to New York City's workers, consumers and environment, and we're pleased our legislation will now be going into effect."
Speaker Melissa Mark-Viverito And Others Announce NYCHA Tech ProgramToday, Speaker Melissa Mark-Viverito, along with Per Scholas and Coalition for Queens (C4Q), announc…Aug 15 2017harlemworldmag.com
"With licensing authority, DCA will be able to help car wash customers, owners, and workers alike," said DCA Commissioner Lorelei Salas. "By requiring car washes to have a DCA license, we can ensure that all of these operating businesses are aware of and complying with the consumer, labor, and environmental protection laws that apply to them."
Car wash operators also will be required to maintain a surety bond from an authorized surety company to provide a source of funds from which to satisfy judgments for wage theft and consumer claims and obligations to the City. The law also authorizes DCA to refuse to issue a license to an applicant who lacks good character, honesty, and integrity. For example, DCA can deny a license if the applicant fails to provide truthful information or documentation in connection with their application. The law also contains environmental protection requirements about groundwater wastewater discharge and the discharge of materials and substances into the public sewer to protect the city's water supply.
Harlem Speaker Melissa Mark-Viverito And Others Rally To Remove Offensive StatueNew York City Council Speaker Melissa Mark-Viverito, elected officials and community leaders today r…Aug 21 2017harlemworldmag.com
The DCA application fee will be $550 per location for a two-year license. Additional details about how to apply for a license and comply with the law will soon be made available by DCA. In preparation of this new license category, DCA will also conduct outreach and education for New York City car washes to ensure that they are aware of these new regulations.
Related articles
---