---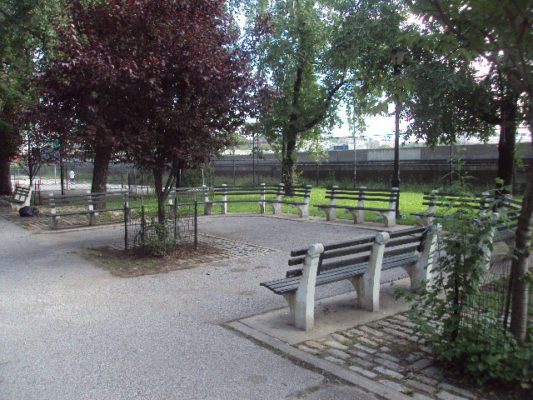 NY Daily News reports that eleven more parks will be fixed up under a city program — and the initiative's cost has jumped by $33 million.
It will now cost $318 million to rehab 67 neighborhood parks under the Community Parks Initiative, up from $285 million originally projected.
The last 11 sites in the push targeting neglected parks were named Monday — Bill Bojangles Playground, Harlem Lane Playground (above), Joseph C. Sauer Park and Playground One in Manhattan; Prospect Playground and Mapes Ballfield in the Bronx; Bartlett Playground, Lewis Playground, and Penn Triangle in Brooklyn; Chappetto Square in Queens; and Mariners Harbor Playground on Staten Island.
"As we have proceeded with it, costs have gone up. Obviously it's a meaningful amount of money, but we think it's a fair amount for what we're achieving," Mayor de Blasio said Monday at Joseph C. Sauer Park in the East Village.
So far, five parks have been completed under the initiative, with another 12 set to be done by the end of this year.
Related Articles
---