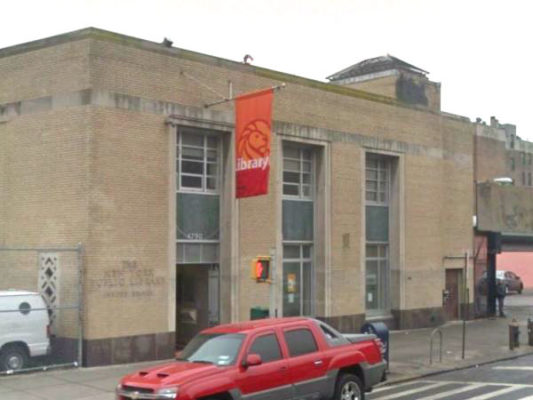 Officials from the Department of Housing Preservation and Development (HPD) and the New York Public Library (NYPL) proposed a drastic redevelopment of the Inwood Library into a public-private development featuring affordable housing units stacked on top of a renovated library.
The officials proposed the library redevelopment — still in its early stages — during a meeting of Community Board 12's land use committee and announced that public interactive workshops will be held at the Inwood Library to discuss the proposal on Jan. 25 and 28. The officials were joined by representatives of the Robin Hood Foundation — who will reportedly provide $5 million to back the project. The Inwood Library is located at 4790 Broadway between Dyckman and Academy streets.
During the workshops members of the Inwood community will be able to offer suggestions for the redevelopment and — more likely — critique the eventual city plan. The city has not yet created an official plan for the Inwood Library, so details about levels of affordability, number of apartment units and the proposed building height, were not presented Wednesday night. While the levels of affordability were not disclosed, HPD has stated that 100 percent of the new apartment units will be offered at below-market rates.
"This project presents an exciting opportunity for creative plans to create affordable housing to be developed hand in hand with the revitalization of an important neighborhood asset – the Inwood public library," HPD Comissioner Vicki Been said in a statement. "We are eager to receive community feedback on preferred programming, affordability levels, and building design. We invite all Inwood residents to participate in our interactive workshops and look forward to seeing this important development come to fruition."
Comments made at the workshops will be used to generate an eventual request for proposals (RFP), which will be released in mid 2017, according to the press release. Private developers will then bid on the RFP and the city will select which developer gets the contract — and ownership of the land.
Should the RFP include a request for spot rezoning in order to build a larger building than current rules allow, the city can expect to anger some Inwood residents. Neighborhood residents rallied against and defeated a spot rezoning request for the Sherman Plaza development — a mixed retail and residential development that many residents saw as a "Trojan horse" for gentrification despite affordable housing promises.
City Councilman Ydanis Rodriguez pulled his support for Sherman Plaza when a deal for deeper affordability levels could not be reached. In the early stages of redeveloping the Inwood Library, Rodriguez has stated he is eager to hear the community's take on the project.
"The Inwood Library is beloved by all in our community," Rodriguez said in a statement. "Through this process, not only will we modernize this vital resource—to potentially include more classroom and technology space—but we'll have an opportunity to take our neighborhood's affordable housing crisis head-on. I am eager to hear ideas from residents about what they'd like to see in this project, from housing amenities to library upgrades."
If the Inwood Library project follows city precedent it might look something like proposed redevelopments of libraries in Brooklyn Heights and Sunset Park. Both redevelopment plans include renovated libraries with condos stacked atop the libraries. The land will be turned over to whichever private developer is selected to construct the project with the city-owned library acting as a tenant within the building.
Attendees of Wednesday night's meeting showed concern that two public workshops may not be enough time to discuss a project, Community Board 12 chair Shah Ally told Patch. The meetings will be held at the Inwood Library on January 25th, 2017 from 4-8 p.m. and Jan. 28 from 10a.m.-2p.m. Child supervision will be provided at both meetings for parents interested in attending.
Photo by Google Maps street view
Related Articles
VIDEO
---
Harlem Cultural Archives is a donor and foundation-supported Historical Society, Its mission is to create, maintain and grow a remotely accessible, online, interactive repository of audio-visual materials documenting Harlem's remarkable and varied multicultural legacies, including its storied past as well as its continuing contributions to the City and State of New York, the nation, and the world.
Support Harlem Cultural Archives
and
click here to get more Harlem History
, Thank you.