---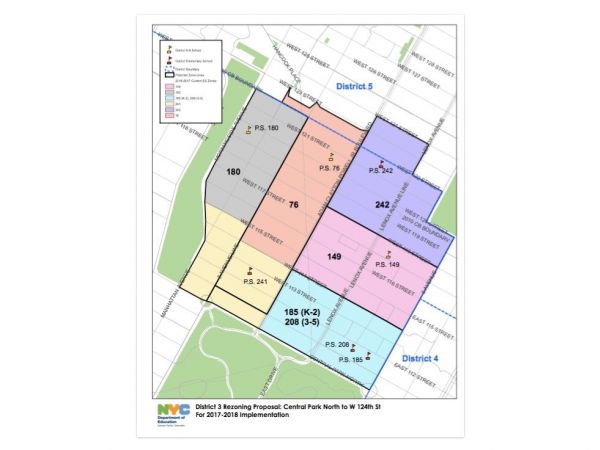 The city Department of Education (DOE) proposed a plan to shut down PS 241 and redistribute students from its school zone to three neighboring schools during a Wednesday night meeting of the Community Education Council for District 3 (CEC).
But the CEC — which represents parents of south Harlem and Upper West Side schools — wasn't sold on the plan. Members of the CEC said that the DOE's proposal was made with a lack of community engagement and that the DOE did not commit as much effort or resources toward the plan as it has to rezoning schools in the more affluent Upper West Side.
The proposal would move current PS 241 — also known as the STEM Institute of Manhattan — students further uptown to PS 76 for the 2017-2018 school year, according to the DOE presentation. From there the PS 241 zone would be distributed among PS 180, PS 76 and PS 185 and 208 which share the same building.
PS 241 is currently sited in what the DOE calls the M113 building, and shares the building with two charter schools. The building is over-capacity, whereas the rest of the South Harlem schools in the district are under-utilized, according to a DOE presentation. Building utilization could increase from 88 percent to as high as 96 percent at PS 76, from 86 percent to 92 percent at PS 180 and from 73 percent to 79 percent a PS 185 and 208, according to the DOE.
For months the CEC has been meeting to discuss rezoning schools in District 3, but none of the meetings were held above West 93rd Street. Wenesday night's meeting was also the first time that a draft map of proposed zone changes to South Harlem schools has been provided at one of the CEC zoning meetings.
In an October letter to Schools Commissioner Carmen Fariña in which the CEC laid out zoning recommendations for the district, the council said it was "dismayed" by the plan to dissolve PS 241. In that letter the CEC said that the plan lacked community involvement and said the council feared that a charter school may take over the space vacated by PS 241.
But in that same letter the CEC said that if PS 241 must be dissolved, its zone should be redistributed between neighboring schools, a suggestion the DOE took heed of.
The CEC seems to be committed to involving south Harlem parents at its Nov. 14 public hearing, which will be held on West 121nd Street, but with a November 22, 2016 deadline to vote on the DOE's proposal it may be too little too late.
Via source
---