---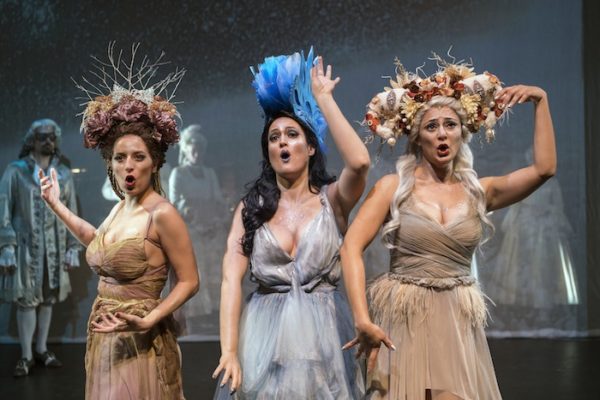 Key to the surprising renaissance of the New York City Opera has been the company's effort to present works that are either new entirely or, at the very least, new to the majority of listeners. Since the Tosca that announced NYCO's return, the majority of the company's productions have been of operas that cannot be heard elsewhere with more established singers in more lavish productions.
This approach, of course, risks occasionally showing audiences something they didn't need to see. The company's latest offering, the American premiere of Antonio Literes's (1673-1747) Los Elementos, was tediously flat in its Thursday night opener at Harlem Stage.
Los Elementos is barely an opera in the familiar sense, and director Richard Stafford's first mistake is trying to present it as one. With a text depicting a conflict among the classical elements and the triumph of dawn over night, it is more an allegorical cantata, in this case tarted up with stylized walking, aimless arm-waving, and smiley hand-holding. Oversized thematic hats, cleavage-accenting glitter paint, and stock-footage screensavers projected as individual backdrops for each character (Earth's spinning CGI globe was my personal favorite) only added to a sense of camp.
Literes's music at least offers some novelty, taking the early Italian model of a slew of da capo arias separated by brief recitatives, and injecting it all with Iberian flair. The thrill of the Spanish tonalities and dance rhythms ought to have been fertile ground, if only Pacien Mazzagatti and the NYCO orchestra had been up to the task. Real lapses of ensemble were relatively few, but intonation was often suspect and, more importantly, the feeble playing lacked any sort of verve to enliven the score. The obbligato parts were often inaudible.
The singing, thankfully, was generally of a high quality. Chelsea Bonagura's focused tone and easy flow were a fine fit for El Agua, in spite of a slightly hard edge. Melanie Ashkar showed an appropriately earthy quality in the role of La Tierra—her higher range felt labored, but in her middle and chest voice she possesses, dark, rich color, and ably handled the many tough vocal transitions in her part.
Mezzo Magda Gartner showed a weighty middle voice and piercing top as La Aurora and her emotional connection to the lyricism of "Ay amor" made it the most memorable aria of the evening. Marco Nisticò was somewhat less successful as El Tiempo, showing plenty of sound, but also a tendency to bark.
Thursday's two standout voices were Samarie Alicea and Kelsey Robertson, respectively El Ayre and El Fuego. Alicea has a soprano like a warm breeze, easily floating, with a consistent caramel tone, and she is an irrepressibly sunny presence on the stage. Robertson's fierce, smoky mezzo was striking, and she showed off ferocious coloratura in El Fuego's blazing arias.
This is not the first time NYCO has used Harlem Stage, a stylish blackbox venue in the old Gatehouse pumping station on 135th Street. In spite of some obvious limitations—chiefly, the necessity of placing the orchestra in the archway opposite the audience leaves only a narrow playing space, with exits left and right—Harlem Stage offers interesting possibilities for adventurous experimental work, as NYCO demonstrated with Hopper's Wife a year ago. Yet for all its fiery runs and rousing, canon-like trios, with no plot or even really distinctive characters to speak of, Los Elementos probably would have been better off as a concert performance than a bare-bones pageant.
Los Elementos will be repeated at Harlem Stage 7:30 p.m. Friday and Saturday and 4 p.m. Sunday. nycopera.com
Photo credit: New York City Opera presents the American premiere of Antonio Literes's circa 1713 Spanish Baroque work "Los Elementos". Source.
Related Articles
---