---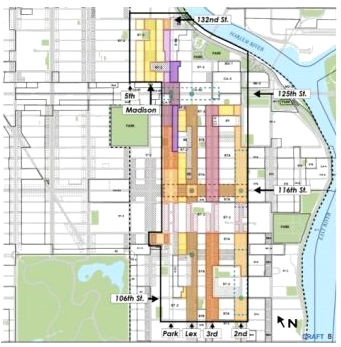 The city Department of Planning is taking the next step in its ambitious, and divisive, plan to rezone East Harlem in the name of spurring housing and economic development in the neighborhood.
The public review of the rezoning plan, dubbed the East Harlem Initiative by city planners, began Monday as the plan entered the Uniform Land Use Review Procedure (ULURP). The plan now goes before Community Board 11, which has 60 days to review the proposal and deliver its advisory vote.
City officials predictably hailed the plan as job-creating, economy-boosting, solution to the city's affordable housing crisis on Monday.
"I am delighted that this comprehensive plan for East Harlem is now starting its formal public review. It represents one more link in a chain of community engagement and activism in East Harlem, aimed at ensuring that a much beloved neighborhood remains affordable, vibrant and livable, and provides economic opportunity to its residents," City Planning Commission Chair Marisa Lago said in a statement.
But some neighborhood residents and activists aren't convinced that the East Harlem Initiative will help people currently living in the neighborhood. Two activist groups hijacked a November public forum to discuss the rezoning plan, arguing that the plan's goal to spur development will also spur gentrification and displacement.
"We totally reject the bulls–t of rezoning," Roger Hernandez Jr. of El Barrio Unite said in November. "And I'll tell you why, rezoning doesn't offer any benefit to the majority of people from this community because if you earn less than $32,000 you don't count."
Public backlash against rezoning projects proposed around the city has not been rare. A similar rezoning effort in Inwood faced stiff opposition during public meetings last summer. Since Mayor Bill de Blasio announced two years ago a plan to rezone as many as 15 neighborhoods, only one proposal for East New York has passed, the Real Deal reported Monday.
But that's not to say the East Harlem Initiative has no local support. The rezoning proposal was created, in part, based on recommendations from the East Harlem Neighborhood Plan. The East Harlem Neighborhood Plan was launched in 2015 by City Council Speaker Melissa Mark-Viverito in partnership with community organizations to identify ways in which East Harlem could develop while remaining affordable to current residents.
The East Harlem Initiative, proposed in October 2016, calls for zoning changes in East Harlem in two parts of the neighborhood. The first part spans from East 104th Street to East 126th Street between Park and Second avenues, and the second part spans from East 126th Street to East 132nd Streets between Fifth and Second avenues.
The plan would rezone some areas of the neighborhood for high-density capacities, which could mean towers as high as 35 stories. According to a draft scope of work, the city projects the plan could add more than 4,000 residential units to East Harlem.
Photo courtesy of NYC Department of City Planning
---