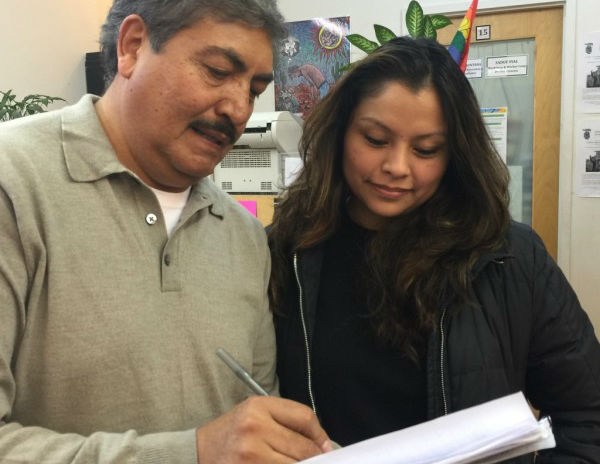 Patricia Rivera, a 33-year-old undocumented Mexican immigrant, remembers when she first began looking for a lawyer to help her resolve her status. "It was going to cost me $2,000 up front just to start looking at my papers, and then $10,000 to finish up the case," said the mother of two U.S.-born children. "It meant taking the food out of my children's mouths, their basic necessities, all without knowing if we would be approved or not."
Obviously, this was not an option for Rivera, who instead found help in ActionNYC, a new City Hall program offering legal assistance to immigrants. "I only had to make a phone call, give them my name and be available for the appointment," said Rivera. "We undocumented people do not have the high income required to hire a good lawyer. With this program, we no longer fear fraud because it is a reliable source that is offering us support."
Funded by the city, ActionNYC is currently operating in the five boroughs and relies on 14 community organizations. Expert consultants offer assistance on all kinds of immigration procedures, from green cards to DACA and DAPA preliminary paperwork.
"For many New Yorkers, the American dream is just that, a dream, but our job is to make that dream come true," said Deputy Mayor Richard Buery. "New York must continue to be a beacon of hope for immigrants. That is why we created ActionNYC."
The consultancy and education services provided by the program will cost the city $7.9 million, but the authorities explain that the money is being put to good use. "This will also prevent cases of fraud that we have seen against immigrants in the past," said Commissioner for the Mayor's Office of Immigrant Affairs (MOIA) Nisha Agarwal, referring to unscrupulous people who offer unnecessary services. "Instead of saying: 'Do not go to these providers,' we can now offer people a concrete solution to their problems."
One of the organizations providing these services is Make the Road New York (MRNY). "This program will not only connect New York's immigrants with immigration experts but also connect them to other municipal services such as IDNYC, medical services and adult education," said Yaritza Méndez, coordinator at MRNY. "Our outreach organizers have already been trained, as well as our immigration experts."
Aside from legal counseling, ActionNYC will feature legal clinics, the first of which is already full after more than 100 people signed up. The program will also work in community schools throughout the city. "A group of attorneys and paralegals will visit schools in the afternoons to make diagnoses, hold consultations and take up cases," said Mario Russell, director of Catholic Charities Immigrant and Refugee Services. "Eventually, they will be redirected to the community centers or the legal clinics."
MOIA believes that the system will allow people to make use of ActionNYC periodically as an immigration "checkup" of sorts, the same way they do with the doctor.
"To me, this could be useful, it gives me hope (…)," said Rivera. "But we also have a responsibility to spread the word among fellow immigrants and let them know that this is reliable and good for all of us. The only thing we need to do is take the help."
Via Voices of NY
No related posts found...
---