---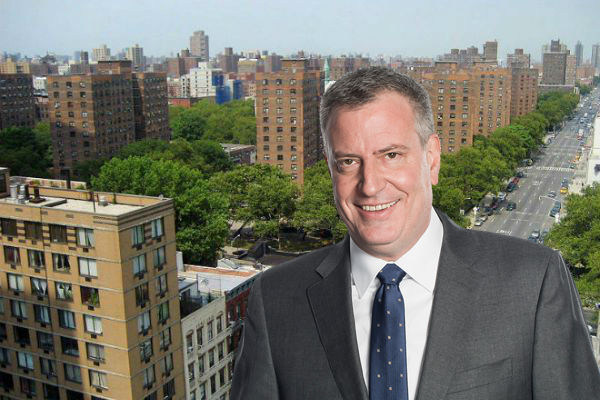 Mayor Bill de Blasio, Department of Citywide Administrative Services (DCAS) Commissioner Lisette Camilo, and the City of New York's Chief Technology Officer John Paul Farmer (CTO) today announced the launch of CityScanner, a pilot program that will use city fleet vehicles to test local air quality. Using a new technology developed by the Senseable City Lab at the Massachusetts Institute of Technology (MIT), five vehicles that service the South Bronx will be equipped with sensors that collect air quality data. Air quality data is often used by city government to identify problem areas, determine causes of poor air quality, and make policy decisions to improve air quality. The existing municipal fixed-sensor network – the New York City Community Air Survey – tracks six different kinds of air pollution and how levels vary by neighborhood across the city. Mobile sensors have the potential to augment this existing air quality surveillance by collecting hyper-local data on fine particulates – street by street – at low cost.
"New Yorkers' air quality shouldn't be determined by zip code," said Mayor Bill de Blasio. "We're piloting technology that can lead us to a greener, cleaner and safer city for all."
"Every New Yorker deserves the right to breathe air that is clean and safe, and the city is finding new and creative ways to make this a reality," said Lisette Camilo, Commissioner of the NYC Department of Citywide Administrative Services. "This innovative pilot program will help the city assess whether its fleet vehicles – many of which are electric and hybrid models – can help us collect data to make our city even greener."
"The City continues to focus on deploying new technologies that improve quality of life for all New Yorkers," said John Paul Farmer, Chief Technology Officer of the City of New York. "Air quality in New York City is important for everyone, and this pilot promises to help us understand the issue on a more granular level, which will enable us to tailor solutions and make key improvements."
The solar powered air quality sensors being used for the pilot program are being installed today and will be used for a four-week trial period. Based on the outcome of the pilot, the technology could be installed on additional fleet vehicles.
The CityScanner technology is based on small, solar-powered sensors affixed on top of vehicles, that use a laser-based technology to detect pollutants in the air at an unprecedented level of space and time resolution. This information is used by environmental scientists to dynamically detect pollution hotspots and air quality trends in the city.
In a previous study, MIT deployed City Scanner sensors on trash trucks in the city of Cambridge, MA. Over a twelve months period, the sensors collected more than 1.6 million datapoints, which helped the city map hotspots and gain insights regarding sources of pollution.
In addition to DCAS, CTO, and MIT, this program is supported by the NYC Department of Health and Mental Hygiene, the NYC Department of Parks and Recreation, the NYC Department of Sanitation, and Environmental Defense Fund (EDF). EDF has worked on similar mobile sensing pilots and will serve as advisors on this initiative. The program will have no cost for the City of New York.
This pilot program builds upon the success of similar pilots spearheaded by EDF and governments in Houston, West Oakland, and London:
Houston, TX – In Houston, EDF has worked with city officials to deploy rooftop-mounted air quality sensors on municipal vehicles and is now developing analytics tools and procedures to support city efforts to use mobile air pollution data to target and plan enforcement efforts. In 2019, the city announced a new toxic alert system for detecting high concentrations of benzene, including during disaster events. This first-of-its-kind tool was developed in response to an EDF air pollution monitoring campaign in the wake of Hurricane Harvey to measure emission events that occurred following damage to the region's petrochemical facilities.
West Oakland, CA – EDF and partners developed air pollution maps using data from a combination of stationary and mobile monitors. The results were then used to highlight impact zones – areas where residents lived among elevated levels of pollution – and to develop emission and exposure reduction strategies that span from truck management and electrification to improved land use zoning and permitting to create greater buffers between industrial areas and vulnerable populations. Community leaders used the maps to advocate for mitigation efforts under a new air quality law seeking to cut pollution in California's most affected communities.
London, UK – EDF along with the Mayor of London, Google, C40 Cities and others launched Breathe London, which combines sophisticated data analytics with state-of-the-art technology — such as mobile monitoring on Google Street View cars and over 100 stationary monitors — to collect air pollution data points at thousands of locations. Hyperlocal data is being used to create a baseline to help London design, tailor, and understand the impact of future clean air actions.
"Public vehicles equipped with state-of-the-art sensors are a powerful, underutilized tool in the battle against air pollution, given the vast urban footprint they cover," said Harold Rickenbacker Ph.D., Environmental Defense Fund Clean Air & Innovation Manager and advisor on the CityScanner project. "Municipal vehicles performing their routine jobs are capable of detecting pollution at a block-by-block level, giving policymakers unprecedented levels of data to inform environmental and public health decisions. This innovative project has the potential to position New York City as a leader with other cities, the tech community, and the private sector."
"NYC Fleet is one of the nation's largest adopters of telematics technology," said Keith Kerman, NYC Chief Fleet Officer and DCAS Deputy Commissioner. "Air quality monitoring through CityScanner will work in conjunction with our telematics solution, adding an exciting new dimension to our efforts to use data to make the City cleaner and safer."
"Clean air means better health," said Health Commissioner Dr. Oxiris Barbot. "The Health Department's New York City Community Air Survey shows continued improvement in the City's air quality but neighborhood inequalities in related health impacts remain. Additional hyper-local data can help inform community-centered policies to make the air all New Yorker's breathe even cleaner."
"From requiring the use of less-polluting fuel in building boilers to creating a cleaner fleet of City vehicles, we have taken many steps that have resulted in much improved air quality in New York City," said Department of Environmental Protection Commissioner Vincent Sapienza. "Collecting additional data on localized air quality will help us understand where further measures should be taken and we look forward to reviewing the results of the City Scanner pilot program."
"Every New Yorker deserves to breathe clean air," said Daniel Zarrilli, NYC's Chief Climate Policy Advisor and OneNYC Director. "With OneNYC 2050, New York City has set bold targets for improving air quality and reducing disparities across the five boroughs. This innovative pilot project will help us achieve those targets and build the strong and fair city that all New Yorkers deserve."
"Air quality is closely tied to many health outcomes and I'm thrilled to see the city embrace this cutting-edge measure to utilize existing resources toward such an important new purpose," said Bronx Borough President Ruben Diaz Jr. "This is a model for how effective it can be to incorporate sustainable technology into municipal operations. We owe it to future generations to identify these areas of opportunity and innovation in sustainability and to make use of them as much as possible. Thank you to the NYC Department of Citywide Administrative Services for making this change and for working toward a greener future."
"Poor air-quality in the South Bronx has a direct impact on the lives of my constituents, and has lead our borough to suffer the highest asthma death rates in the country. The time is now to invest in solutions to address inequities in access to clean air. I look forward to the success of the CityScanner pilot program, and thank the NYC Department of Citywide Administrative Services and the City of New York's Chief Technology Officer for their leadership of this initiative," said State Senator Alessandra Biaggi.
---