---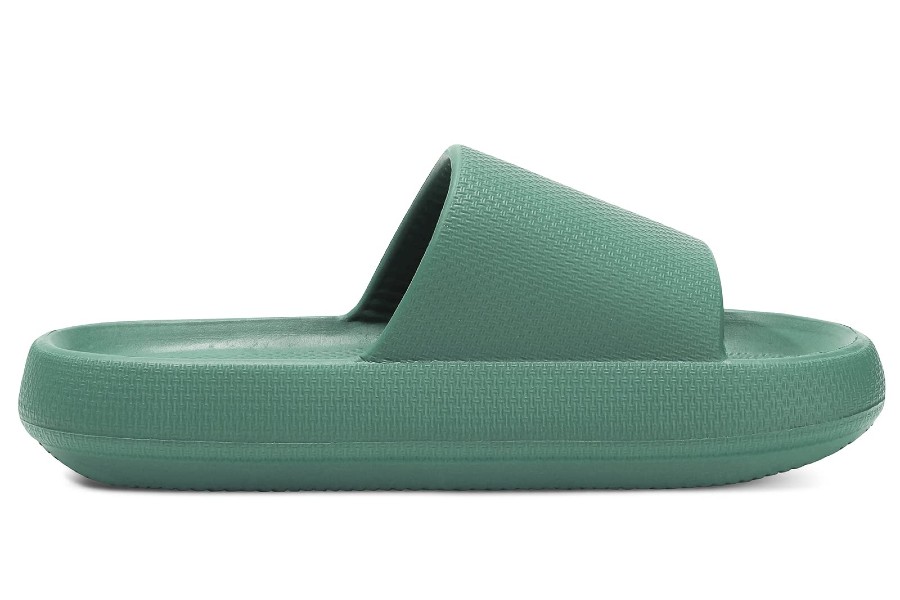 When it comes to feeling at ease in the comfort of your own home, a pair of slippers is the perfect accompaniment.
However, not all slippers offer the same level of comfort, particularly when it comes to pampering your feet. This article will provide guidance on how to select the ideal cloud slippers for your feet. We recognize that comfort is not only a luxury but also a necessity. Let us embark on a journey together to find the perfect pair of slippers that will help you feel relaxed and comfortable. Say goodbye to aching, fatigued, and sore feet, and hello to a gentle caress as you walk on fluffy clouds. Whether you are looking for a way to relax after a long day or simply want to unwind on a weekend morning, cloud slippers can be the perfect solution.
Find Your Perfect Fit
Finding the perfect fit is the first step to cloud slippers, and it can't be stressed enough how important comfort is. One size doesn't fit all, and that's why it's important to make sure your slippers are the right size for you. Here's how to find the perfect size for your feet:
● Measure your feet: First, you'll need to find a measuring piece of paper. You'll want to trace your feet on the paper and measure the length from your heel to your longest toe. You can use either centimeters or inches for accuracy.
● Check the sizing chart: If you're buying slippers from a different brand, make sure you check their specific sizing guidelines. Your feet might not fit the same size, so it's a good idea to go with a larger size to ensure you're comfortable.
● Choose the right fit: For some people, slippers are snug-fitting and provide a sense of security. For others, slippers are roomier and let their feet breathe.
Material Matters
When it comes to cloud slippers, material is one of the most important factors that can make a huge difference in your comfort and satisfaction. There are so many different materials to choose from, so it's important to find the one that best suits your needs. One of the most comfortable materials you'll find are plush fleece slippers. They're like having a warm, cozy hug on your feet, and they'll keep you warm even on the coldest days. The fleece lining will also wick away moisture, keeping your feet dry and comfortable all day long. Another popular material is memory foam. It conforms to your feet perfectly, so you won't feel any pressure points or fatigue, and it's perfect for long hours on your feet. If you're looking for something that's eco-friendly and breathable, then you'll want to go for a leather cloud slipper. It's the perfect combination of elegance and comfort.
Style and Design
While comfort is essential, your cloud slipper style is just as important. It's not just about the comfort, it's about expressing your personality and fashion sense. In this section, you'll find the latest trends in cloud slippers from classic to modern. If you're a fan of classic designs, you've come to the right place. We'll discuss the timeless elegance of slippers that show off sophistication and grace. Whether you're looking for a cozy night by the fire or a bit of timeless charm, we've got you covered.
On the other hand, if you're more into contemporary aesthetics, you're in luck. We're here to introduce you to modern marvels in cloud slippers. From sleek lines and bold colors to innovative materials, these slippers are sure to turn heads.
Support and Cushioning
When it comes to cloud slippers, style is just as important as comfort. Your cloud slippers should reflect your personality and style. Browse the spectrum of classic and modern designs to find the perfect pair that's not only comfortable but also eye-catching.
● Classic designs: Classic styles are classic in style, with soft colors and classic patterns. They're perfect for cozy evenings or adding a bit of old-world charm to your loungewear.
● Modern designs: Modern cloud slippers are a mix of contemporary and modern. You'll find sleek lines, bright colors and unique materials that lead the fashion trends. These slippers are made with sustainable materials and innovative design elements.
● Personalization: Personalize your cloud slippers to make them your own. Whether it's monogramming initials, customizing color combinations or adding a personal touch, your cloud slippers will be a reflection of your style.
Durability and Maintenance
To ensure your cloud slippers last and maintain their plush comfort, it's essential to follow proper care and maintenance routines. Here are some valuable tips:
● Cleaning: Regularly remove dirt and dust from your cloud slippers by gently brushing the surface with a soft brush or cloth. Refer to the manufacturer's guidelines for specific cleaning instructions, as different materials may require varying care methods. Whether it's machine-washing or handwashing, proper cleaning helps preserve their pristine condition.
● Shape Maintenance: To retain the shape and cushioning of your cloud slippers, consider using shoe trees or stuffing them when not in use. This simple step prevents them from becoming misshapen, particularly if you have a preferred style you'd like to maintain.
● Insole Care: If your slippers have removable insoles, take them out periodically to air them and reduce moisture buildup. This practice not only prevents unpleasant odors but also ensures a fresh and comfortable feel every time you slide your feet in.
● Indoor Use: To protect the outer soles and overall durability, restrict the use of your cloud slippers to indoors only. Wearing them outside can expose them to rough surfaces and moisture, leading to quicker wear and tear.
By following these maintenance tips, you can significantly extend the lifespan of your cloud slippers, keeping them in top-notch condition for years to come. Treating your cloud slippers with care is the key to enjoying their cloud-like comfort long-term.
Feet in Clouds: Your Perfect Choice
In conclusion, selecting the ideal cloud slippers for your feet is a delightful journey of discovering the perfect blend of comfort, style, and practicality. Your feet deserve nothing less than the ultimate in relaxation, and by taking into account the key factors of fit, material, design, support, durability, and budget, you can transform your daily routine into an indulgent experience.
So, treat your feet to the comfort they truly deserve. With the right cloud slippers, you're not just stepping into a pair of shoes; you're stepping into a world of cloud-like bliss where every step is a moment of relaxation. Embrace the balance of comfort, style, and practicality, and elevate your everyday routine into a luxurious experience tailored to your unique preferences.
---