---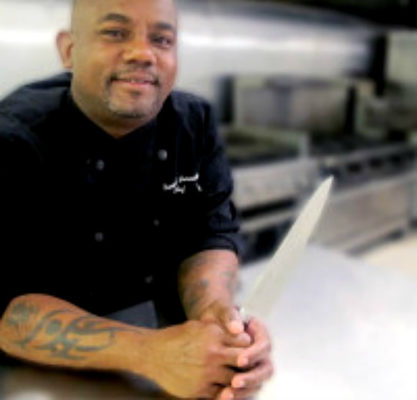 Chef Darryl Burnette and his lovely wife Melissa are offering something special. Belle Harlem will be the first chef's table in Harlem, accepting reservations only for dinner and walk-ins for brunch.
The restaurant offers 12 seats with a single exclusive 7:00pm dinner seating Tuesday through Saturday. The dinner service is pre-paid and reservation only for the 7-9 course chef curated tasting menu. Walk-ins are welcome for brunch Saturday and Sunday from 11:00am until 3:00pm and a limited menu is available prior to dinner Tuesday through Saturday (check the website at the bottom for hours).
The space affords diners a unique opportunity to have a direct relationship with the chef in an upscale communal setting. The menu will change regularly, providing customers a new dining experience. Chef Darryl says, "We wanted our guests to feel as though they were having dinner in our kitchen. We're focusing on local ingredients, small unique purveyors, and boutique wines. We also think that hospitality can suffer in large establishments. My most memorable meals have been in our kitchen with great friends, great food, and great wine. So we wanted to recreate that intimate environment."
Chef Burnette is a graduate of The Culinary Institute of America and has trained under such renowned chefs as Charlie Palmer, Jean Georges Vongerichten, and Andy D'Amico. He was previously the Chef at 24 Prince, and Executive Chef at Bergdorf Goodman's BG restaurant.
Check them out at Belle Harlem, 2363 Adam Clayton Powell Blvd., New York, NY 10030, 585.687.2821, http://www.belleharlem.com
Via source
Related Articles
---