---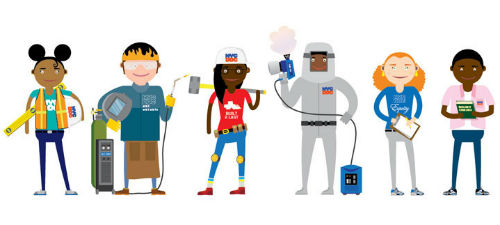 As part of its effort to help the design, architecture and construction industries understand opportunities available to them and to work more efficiently with the City, the New York City Department of Design and Construction (DDC) on July 20, 2016.
The DDC will host an open house for consultants to learn more about upcoming projects at DDC and the type of professional services the agency will seek to procure in the coming year.
The open house will be from 9:00 AM to noon at the DDC's headquarters at 30-30 Thomson Avenue (entrance on 30th Place) in Long Island City, Queens.  Over 420 representatives from consultants have already registered to attend.  Registration is free and online here. Consultants seeking more info on the event can email DDCOpenHouse@ddc.nyc.gov.
"Our open houses allow DDC to introduce attendees to the agency and its processes, including the project pipeline, and strengthen the continuing dialogue between DDC and its industry partners," said DDC Commissioner Feniosky Peña-Mora.  "Reaching out to industry professionals this way involves more consultants in the City's competitive bidding process, helps them gain business and plan their workload, and gives DDC a greater pool of consultants to work with, all at a time when the agency is taking on an increasingly varied group of projects."
The open house will feature an address by Commissioner Peña-Mora, as well as presentations by senior staff on the architecture and engineering, construction management, infrastructure design, and program management services the agency will require to initiate a variety of projects over the next 12 months.  Topics will include DDC's project pipeline, the agency's Design Excellence Program, requirements for construction site safety, how the agency pays and conducts business with its consultants and contractors, and what is expected of consultants the agency contracts with.
DDC Chief Architect Margaret Castillo will also address the agency's Design and Construction Excellence 2.0 Guiding Principles, which outlines shared aims in public construction to ensure that equity, sustainability, resiliency, and healthy living are integrated in the design and construction process. The Principles also provide a framework for durable, aesthetically pleasing projects that may be enjoyed by future generations of New York City residents and their guests.
"The Guiding Principles are important because they are meant to encourage our building partners to unleash the creativity of their respective design teams while meeting the city's needs" said Commissioner Peña-Mora. "In keeping with Mayor de Blasio's visions for the City, we are proud to follow the Guiding Principles as a foundation for innovation when it comes to building in the boroughs."
DDC currently manages a construction portfolio of over 1,300 active infrastructure and public building projects with a value of approximately $15 billion, which is expected to rise to $17 billion by 2020.  It has a consultant workforce of approximately 1,300.  In Fiscal Year 2016, from July 1, 2015 to June 30, 2016, DDC had contract commitments of $2.4 billion, its most ever in one fiscal year. MWBE businesses accounted for 35% of DDC's contracts in the fiscal year.
For more information, please visit nyc.gov/ddc.
No related posts found...
---