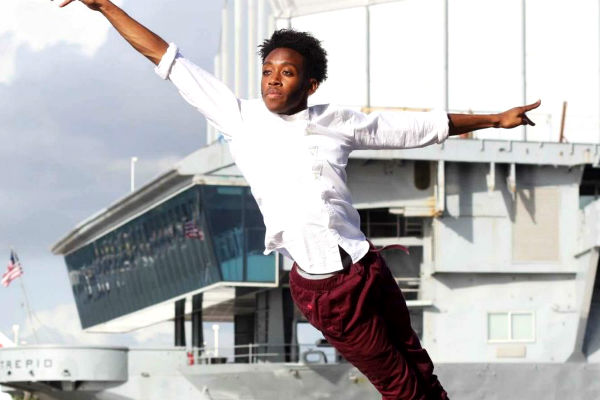 BET reports that for high school seniors, the final semester of secondary education can at once be the most nerve-wracking and liberating time in their young lives. On the brink of determining how their future will take shape, teenagers are tasked with a bevy of considerations. The most pressing among them: where they will find themselves come fall.
Harlem native Solomon Messiah is still working out that major detail, but not for lack of options. The 18-year-old is a relative newcomer to the ballet world, but has made up for lost time with impressive strides. After honing his craft for just two years, he's been accepted to one of the country's foremost art schools, California Institute of the Arts. "I'm surprised to be where I am," Messiah said of his swift progress.
A self-described "free spirited person," Messiah was active growing up, involved in sports such as martial arts and fencing. He credits the latter with pushing him to "learn more about dance," citing the similar postural movements involved in both activites.
And while the parental trope of dissuading youth from pursuing creative vocations is still alive and well, it was luckily something that Messiah did not experience. Messiah's mother, Ronda Fowler, a creative herself, is "always passionate for the arts [and] always supporting me in any artistic endeavor," according to her son.
It was Fowler who urged her son to create a GoFundMe page to crowdfund his college tuition. Messiah, at first "skeptical," ultimately decided "there's no harm in just trying, right?" In less than two weeks, they've raised $1,200 of the $17,000 needed for Messiah to matriculate at CalArts this fall. He's hoping to amass the remainder of the balance prior to September, when tuition is due.
When asked what he loves most about ballet, Messiah did not mince words. His multifaceted, thoughtful and passionate answer included the "discipline" and "scientific" aspects of the art form.
"You learn about the body so much, like learning how to, like, balance and do amazing things, like being able to turn for as long as you want just because you know where your central line is," he said. "I just think also the information behind it is so magical. I love all dance and I love contemporary dance, too, but it's just there's nothing like the technique that's behind it in ballet."
Messiah's success is all the more admirable in light of the limited opportunities for young Black artists.
"I remember, like, being so discouraged to audition for certain places that hold, like, such prestige, that cost thousands of dollars to go to, and the training is amazing, but it's like if you can't go there, well then, you're out of luck," he said. "I felt like often times the dance world can be just very exclusive and it's like you have to be put in certain positions to be able to be a part of that world, but I'm hoping to break that like dynamic. Like, I get that it was a European art form, but the world is so different today and everybody deserves a shot at that."
If, in just two short years, Messiah has achieved his current level of success, it's easy to see how formative studying dance at an elite institution could be. We can't wait to see where his rapidly ascending star will land. You can find his GoFundMe page here.
Related Articles
---