---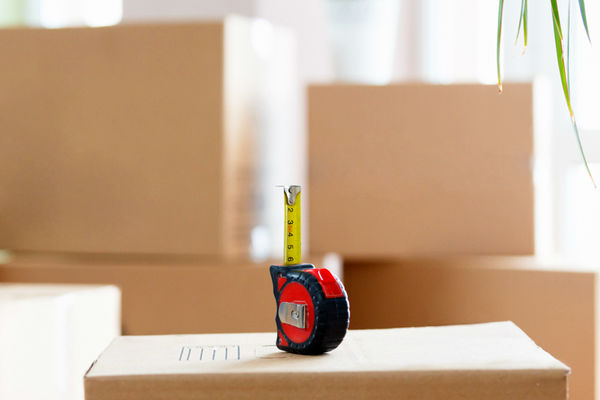 When you face a necessity or opportunity to move cross country, one of the first thoughts is usually about costs.
It is an open secret that hiring professional movers for cross-country moving is quite costly. The good thing is that there are several ways to reduce costs associated with relocation. 
Moving expenses depend on the size of your move, distance, dates, and the scope of services you need. In fact, cross-country moving costs vary from $1 500 to $9 000 and depend on the move type you choose; coast-to-coast relocation can be more expensive — from $2 000 to $11 000.
You can cut moving costs by choosing truck rental for a DIY move, freight trailer, or moving container. Below we will discuss how to cut down expenses on moving cross country.   
Average Cost of Cross-Country Movers
The largest chunk of moving costs usually goes to a moving company. The average cost of hiring professional movers varies significantly due to the scope of required services.
The average interstate move cost in the US is around $4 300. The American Moving and Storage Association reveals that the average cost is based on a shipment weight of 7 400 pounds and a distance of 1 225 miles.
According to other sources, the national average cost to move cross country is $4 125. So many families understandably choose DIY moves to cut down on moving expenses. 
Actually, the move costs depend on the type of moving service:
Even if you decide on a DIY move, you can require packing services. The average packing service costs depend on the size of your move and vary from $250 to $1 800. Packing a one-bedroom apartment can cost from $250 to $500, while the cost of packing a 3-bedroom apartment is from $900 to $1 800.  
If you need movers to load and unload the truck, you have to add an extra $400-$1 500 ($60-$120 per hour) to your budget.
DIY Truck Rental
The average price for a one-way truck rental for cross-country moves ranges from $1 500 to $4 000. The price depends on the distance you are going to travel and the size of the truck. Truck rental companies usually specify the mileage and the number of days included in the price.
The average price of a 10-foot truck is from $1 200 to $1 700, while a large 26-foot truck rental ranges from $1 900 to $4 000.  
Let's say, if you move from New York to California, the average price for a rental truck is from $2 500 to $3 500 without fuel costs. The price includes around 3,000-3,200 miles and a 5-8 days rental period. Additional mileage and days you can purchase for an extra fee.   
Another item of expense is fuel. When you move cross-country fuel costs might add up an impressive amount to your total moving costs. For example, from NY to California you should be ready to pay around $800 for fuel. 
Rental trucks usually get 8-12 miles per gallon:
an empty small (10-foot) truck  can get 12-15 miles per gallon;

a fully-loaded large (24 or 26-foot) truck can get around 7-9 miles per gallon.   
Freight Trailer
The average price for a 28-foot freight trailer for cross-country moves is around $2 900. Again, the price is based on the distance and the size of your move.
Moving companies offer rates based on full truckload (FTL) or less than truckload (LTL). FTL service costs more as you get a freight trailer fully reserved for your items only. The LTL rent is cheaper because part of the trailer will be occupied by other people's items. In the case of LTL, the delivery period is longer because the trailer serves several clients.
It works the following way: a freight trailer rental company will deliver a trailer to your place and give you a specified number of days (1-3 days) to load your stuff. On the date designated, the company should pick up the trailer and drive it to your new place.
The cost of renting a freight trailer can be thousands of dollars less than a full-service move.       
Moving Container
Moving containers are portable storage units that can be delivered to your new location. The service cost doesn't include packing or loading. The best option is to look for a company with nearby locations on both ends of the move.
For cross-country moves, moving container prices range from $850 to $4500 based on the distance and size of the container (from 7 to 20 feet long). Most companies offer free one-month storage included in the total price.   
Full-Service Moving Company
Full-service movers can relieve you of anxiety and stress associated with relocation undertaking many chores. Most full-service companies take care of your move from start to finish and provide the following services:
Equipped truck with all the necessary tools

Packing supplies (boxes of various sizes, pads, blankets, bubble wrap, tape, and labels).

Packing and unpacking services.

Disassembling and reassembling furniture.

Loading and unloading the truck.  
However, professional movers' services are not cheap: usually, rates for a long-distance move vary from $2 500 to $11 500 based on the distance and the size of your move. Obviously, moving cross country will cost you more than a move to a neighboring state.
For example, the cost of moving a 2-bedroom apartment from NY to California (2,900 miles) may vary from $3 500 to $9 000 and depends on the size of your move.
Typically, moving to less populated states costs a bit more because not all moving companies offer their services in these regions.
Be aware of moving scams while looking for the cheapest cross-country movers: announced low rates might result in double costs due to extra charges for bulky items, wrong volume or weight calculations, staircases, or anything else.  Always check if a moving company is fully licensed, insured, and has positive customer reviews.
Professional full-service companies like TrekMovers provide free of charge online quotes and in-person estimations with no hidden fees. To calculate the approximate cost of your move you can use an online calculator or ask for a virtual estimation. To finalize the price of your move, professional companies send a qualified employee to evaluate the size of the move in-situ, estimate the size of the truck you need, and consider whether you need extra insurance for your stuff. As a result, you will receive a detailed report on all services and their costs.
Tips to Make Your Cross-Country Moving Cheaper
Book cross-country movers in advance.

Movers have high and low seasons; hence, rates vary significantly. Summer months are typically the busiest as most families prefer their kids to complete the academic year, so rates can be 20-30% higher. Besides, summer is a hot season for school graduates as they move to colleges. Usually moving at the end of the month and around holiday costs more than at the beginning of the month.

Winter is considered the low season. You can find the lowest rates somewhere from January to March. If you want to reduce the costs of your move, try to schedule it during the low season and book movers in advance.
Declutter.

The cost of the move depends on the size and the distance. Downsizing your belongings can reduce the costs of your move. Sort out your stuff. Throw away broken items, sell or donate unwanted or not used items in good condition. Simply put, try to get rid of everything that is not worth moving to your new place.

Get quotes from several moving companies.

Ask colleagues and friends for recommendations and get quotes from at least 3-4 companies. Rates can vary by thousands of dollars when it comes to cross-country moves. However, do not go only with the price and check online ratings and reviews. Look for professional movers with an A+ rating at BBB.

For a DIY move, get free packing supplies.

When people set up a moving budget they often overlook expenses on packing supplies. Actually, you can save up to several hundreds of dollars. Oftentimes you can find moving boxes and other supplies offered for free online on Craigslist. When people have just relocated, they try to get rid of boxes and packing materials they don't need anymore.

Check if your company can help to pay for your move.

If you move for a new job, ask whether your company offers moving packages. Some companies fully cover moving expenses, while others provide a specific amount or cover 30-50% percent of your moving costs. Make sure you keep all the receipts confirming your moving expenses.
---