---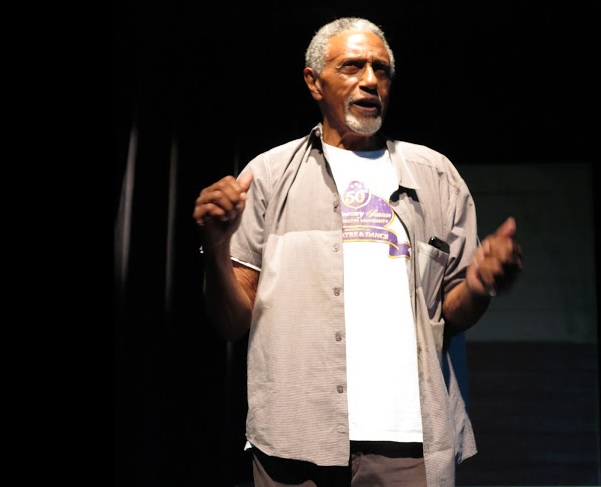 Actor/Director Charles Weldon, who was Artistic Director of The Negro Ensemble Company (NEC) since 2005, died December 7 at Mt. Sinai Hospital, NYC. He was 78.
Weldon directed the company's productions of "Colored People Time" by Leslie Lee, "The Waiting Room" by Samm-Art Williams, "Savanna Black and Blue" by Raymond Jones, "Ceremonies in Dark Old Men" by Lonnie Elder, "Hercules Didn't Wade in the Water" by Michael A. Jones and the company's 50th Anniversary revival of "A Soldier's Play" by Charles Fuller, which was presented at Theatre 80 St. Marks, 80 St. Marks Place, in September-October 2017 and was subsequently remounted at the Gene Frankel Theatre, 24 Bond Street, in February-March 2018.
He also directed and acted prolifically in regional theaters including Denver Theater Center, where he appeared in twelve productions.
Weldon began his performing career in 1960 as lead singer with The Paradons, a Doo-Wop group from Bakersfield, CA, and co-wrote and recorded the smash hit "Diamonds and Pearls." He appeared in the original San Francisco production of "Hair" and the Broadway musical "Buck Time Buck White" with Mohammed Ali.
He joined the Negro Ensemble Company in 1970 and acted in many of its classic plays including "A Soldier's Play," "The Great McDaddy," "The Offering," "The Brownsville Raid" and the Company's Broadway production of "The River Niger." His last stage appearance was in the central character of the Mayor in the company's 50th Anniversary revival of "Day of Absence" (1966) by Douglas Turner Ward, a play that jokes wildly about a Southern town on a day when all its Negroes mysteriously vanish. The piece was presented for an eight-performance run in December 2016 at Theatre 80 St. Marks.
His films included "Stir Crazy," "Serpico," "The River Niger," "Malcolm X" and Showtime's "The Wishing Tree." He has won a "HENRY" (Excellence in Regional Theater) for Best Supporting Actor in "Gem of the Ocean" by August Wilson and an Audelco Award for Best Supporting Actor in "Seven Guitars" by August Wilson at Signature Theater. His TV credits included "Roots: The Next Generation" and many NYC-based police dramas. He co-founded the Alumni of the Negro Ensemble Company.
Charles Weldon was born June 1, 1940, in Wetumka, Oklahoma. His parents, Beatrice Jennings and Roosevelt Weldon, moved to Bakersfield California were Charles attended local schools and graduated from Bakersfield High School in 1959. As a teen, he worked in the cotton fields surrounding Bakersfield, CA. At 17, he joined with three other local youths to form The Pardons, a doo-wop group, whose 1960 single, "Diamonds and Pearls," became a chart-topper. The group dispersed and Weldon next joined a soul group, Blues for Sale, as its only Black singer. From there, he drifted into theater. He would borrow the car of his sister, actor Ann Weldon, and return it to her at the Geary Theater in San Francisco, where she was rehearsing. There he was recruited by playwright Oscar Brown Jr. to be an understudy in "Big Time Buck White" and found himself running lights and errands, learning the biz. This led to his auditioning and being cast in the Geary's production of "Hair." He moved to New York when "Big Time Buck White" moved to Broadway (that production starred Muhammad Ali) in 1969. The run lasted only seven performances but Weldon stayed longer.
He appeared in NEC's production of "Ododo" by Joseph Walker in 1970, followed by Walker's "The River Niger" in 1972 and "The Great MacDaddy by Paul Carter in 1973. Weldon reprised his role in "The River Niger" in the play's 1976 film version starring James Earl Jones and Harlem's Cecily Tyson. He succeeded Douglas Turner Ward as Artistic Director of NEC in 2005.
Weldon endured a life crisis in 1980 and again in 1986. In published interviews, he said that the first one came as he was "spinning out of control" due to the success in the film "Stir Crazy." The second, he said, was triggered by the death of long-time friend Adolph Caesar, with whom he had acted in "A Soldier's Story." He related there was "a sickness born down deep within my soul." From 1986 to 1989, needing money, he worked as a long-haul truck driver and said the experience, with its long periods of solitude, was medicinal to him. It inspired much material for "Mama Hated Diesels," a musical revue by Randal Myler that was presented by Denver Center Theater Company in 2010, in which Weldon appeared in a cast of five.
Weldon had three children with his first wife, Barbara Sotello. He subsequently married Debbie Morgan (Angie Baxter on "All My Children"). He had ten grandchildren. A life celebration will be planned for January 2019.
In 2017, the National Black Theatre Festival in Winston-Salem, NC conferred an award on The Negro Ensemble Inc. for 50 years of excellence in theater. The honor was accepted for the company by Artistic Director Charles Weldon.
Photo via Jonathan Slaff & Associate.
---