---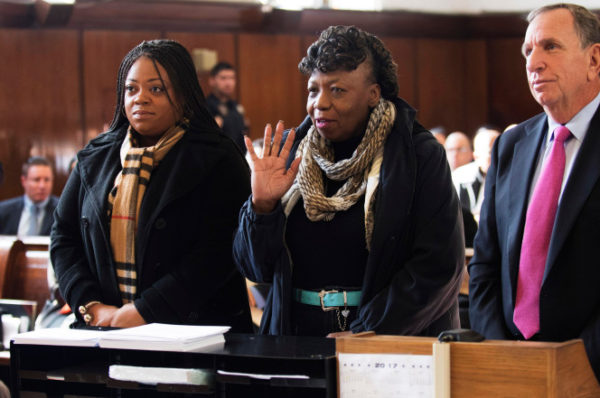 More than a dozen people arrested during two protests outside Trump Tower — including ​the ​Rev. Al Sharpton's daughter and Eric Garner's mom — were told Monday that their cases would be dropped if they stayed out of trouble.
Ashley Sharpton, the divisive holy man's youngest daughter, and Gwen Carr — whose son died in 2014 after Staten Island cop placed him in a chokehold — were arraigned on disorderly conduct charges in Manhattan Criminal Court.
​​
Both women were part of a group busted for sitting on Fifth Avenue on January 31, 2017, to block traffic while protesting Trump's supreme court justice nominee Neil Gorsuch, whose confirmation hearing is slated to begin Monday.
Prosecutors offered to dismiss their cases in six months if they stayed out of trouble — known in legal parlance as an adjournment in contemplation of dismissal.
The daughter of the Harlem civil rights leader said her dad was proud of her roadway activism sources reported.
"He teased me and called me a jail bird but said it's our duty," Ashley Sharpton, 29, said as she left the courthouse.
Carr, 67, who has been highly critical of the commander in chief and even campaigned for Hillary Clinton, said it was important to speak up. "We can't just stand by and say nothing and let the Trump administration just take advantage of this country," she said.
All 16 protesters, some of whom were arrested in front of Trump Tower Jan. 20 for blocking traffic during a demonstration against the President's inauguration, took the deal.
Both protests were organized by Al Sharpton's civil rights organization the National Action Network.
The arrested protesters included state senator Marisol Alcantara; councilman Jumaane Williams; councilman Carlos Menchaca; Rev. Johnnie Green of Mount Neboh Baptist Church in Harlem; Minister Kirsten John Foy of NAN; Katrina Jefferson, NAN NYC chapter liaison; the Rev. Kevin McCall of NAN; and Patrice Perry, who is a member of NAN.
---