---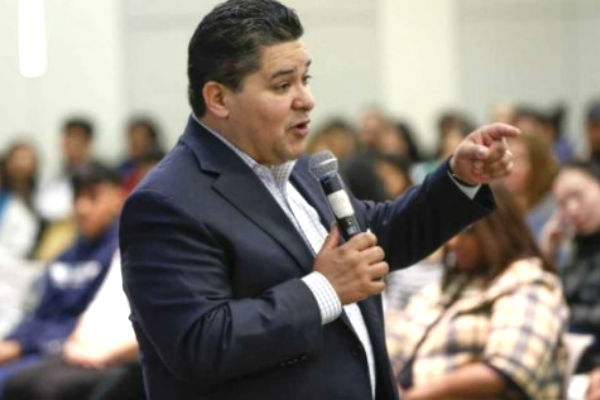 Schools Chancellor Richard A. Carranza announced the opening of 48 new Dual Language (DL) and Transition Bilingual Education (TBE) programs this fall.
Including 32 DL and 16 TBE programs, and the first-ever Albanian Dual Language program opening in the Bronx. Over the last four years over 200 programs have opened or expanded Citywide.
"Everyone in our City, including immigrant families and undocumented students, deserves a high-quality education, and language should never be a barrier to equal access," said Schools Chancellor Richard A. Carranza. "When I started Kindergarten, I only spoke Spanish and my parents trusted public schools to teach me English — I want to make sure every English Language Learner in New York City has the same experience I did growing up."
In addition to Albanian, the Department of Education (DOE) will open new programs in Arabic, Bengali, Chinese, French, Italian, Korean, Polish, Russian, Spanish and Urdu. The 48 new programs are opening across 42 schools—25 programs in 21 elementary schools, 7 programs in 7 middle schools, and 16 programs in 14 high schools. Three programs are opening in Manhattan, 11 in the Bronx, 20 in Brooklyn, and 14 in Queens, and all 15 programs on Staten Island are expanding to new grade levels. Earlier this year, the DOE announced the launch of 33 new pre-K programs, more than doubling the number of available DL pre-K programs Citywide.
Today's announcement was made at PS 1 in Chinatown, which currently serves a 26% ELLs population and offers Dual Language Mandarin from grades K-3. Next year, they will offer pre-K and 4th grade Dual Language.
Each school opening a program this fall was selected by the Division of English Language Learners and Student Support (DELLSS) in collaboration with Borough Field Support Centers and Superintendent Offices, who examined data on ELLs to meet the needs of every community. DELLSS worked with school leadership teams to develop individualized program designs, instructional plans, professional development and a family engagement component. Schools will receive grants from the DOE to implement these new programs. On average, schools receive $25,000 to open a new program, and the total cost of this expansion is approximately $1.2 million.
Currently, there are 545 programs Citywide in 13 languages: Arabic, Bengali, Chinese, French, Haitian Creole, Hebrew, Italian, Japanese, Korean, Polish, Russian, Spanish, and Urdu. These programs serve over 40,000 ELLs, former ELLs, and non-ELLs. The programs are funded through the Federal Title III Language Instruction for ELLs program – which provides over $1 million annually to ensure schools with the resources, materials and trainings need to provide a high-quality bilingual education to all students enrolled. Schools also receive extra funding Fair Student Funding, helping schools provide additional materials, services and supports to strengthen instruction for ELLs.
"English Language Learners have been a lifelong priority for me, and I'm thrilled to continue expanding bilingual education throughout our City," said Milady Baez, Deputy Chancellor for the Division of English Language Learners and Student Support. "All students benefit from these rigorous programs, and prepare students for the real world by embracing bilingualism and biculturalism."
"As a bilingual and bicultural former ELL in NYC public schools, I fully believe every student should have the opportunity to have a bilingual education," said Yalitza Vasquez, Senior Executive Director for the Division of English Language Learners and Student Support. "We are not only helping students bridge linguistic and cultural connections, we're developing an understanding among students and the diverse world in which they interact."
"Growing up bilingual has been vital to my work as an educator, and I have seen the impact bilingual education has had on so many of my students," said Amy Hom, Principal, PS 1 Alfred E. Smith School. "For so many of our families, bilingual programs allow their children to maintain their native language and celebrate their culture while developing important skills, and I'm thrilled Chancellor Carranza is investing in bilingual education."
Families of ELLs can request placement in either a DL or TBE program in addition to receiving English as a New Language (ENL) services. In DL classes, approximately 50% of students are ELLs and 50% are English-proficient students – both groups of students receive instruction together in English and a target language. In TBE programs, ELLs who speak a common home language receive instruction in that language with intensive support in English. Gradually, students receive more instruction in English and less in their home language, until they reach proficiency in English. Through both DL and TBE, ELLs acquire a new language while strengthening their native language, and the goal of both is to educate ELL and English-proficient students to become bilingual, biliterate, and bicultural.
Family engagement is a critical component of successful bilingual programs. Last year we expanded translation and interpretation services for families, resulting in a record number of interpretation services provided to families. The DOE offers over-the-phone interpretation services in over 200 languages, and Native Language Parent Conferences for ELL families in Spanish, Haitian Creole, and Korean in Staten Island, Brooklyn, and Queens. The Family English Initiative (FEI) is also available for families of ELLs K-2. The initiative takes a two-generation approach to learning English, and equips families with tools to continue to develop proficiency skills at home.
"These new bilingual programs will allow our city's students to expand their scholastic horizons," said Congressman Joe Crowley, Chairman of the House Democratic Caucus. "As a city defined by multiculturalism, it is crucial that New York's education system reflects our diversity. Today's announcement shows that Chancellor Carranza is committed to building a public education system that accounts for all New Yorkers."
"I commend NYC Schools Chancellor Richard Carranza and the NYC Department of Education for the continuous effort to expand school curriculums to include over 200 bilingual programs, and counting," said Congressman Adriano Espaillat. "The expansion of 44 new bilingual programs opening across 39 schools, including JHS 80 in the Bronx and the High School for Media and Communication in Manhattan, benefits students, faculty and our entire community. These new language programs will further our efforts to support student growth and development to ensure a better understanding and appreciation of different cultures. When our students thrive, our community succeeds."
"Children whose primary language at home is not English need special language support to successfully transition and succeed in school," said Congressman Jose E. Serrano. "The new bilingual programs announced today will help expand the availability of these services in New York City. As the hub of many new immigrant families, the 10 new programs in the Bronx –including the first Albanian dual-language program- will help our borough better serve these families' needs."
"This expansion is very welcome and long overdue as parents have called for this to be done for some time" said Assembly Member Catherine Nolan, Chair of the Assembly's Committee on Education. "A big thanks to Mayor de Blasio, Chancellor Carranza and the NYC Department of Education for selecting P.S. 305Q, I.S. 77Q and P.S. 71Q. This will give parents additional services and improve the academic success of our students. I am particularly happy that both Polish and Spanish will be available and hope to soon see other local languages including Romanian, Serbian, Albanian, Nepali, Korean, Chinese and some of the many other languages spoken in our great and global city."
"Building a truly equitable education system means removing impediments that come between New York City's families and the quality education they deserve," said Council Member Mark Treyger, Chair of the Council's Committee on Education. "I applaud Chancellor Carranza for working to increase language access, building language capacity that will benefit our city's students as they advance in their academic and professional careers, and ensuring that our city's English Language Learners are given every opportunity to achieve academic success."
"Bilingual education is increasingly valuable in a city as diverse as ours. 47 percent of Brooklynites speak a language other than English at home, and our students benefit today and tomorrow from knowing how to communicate and solve problems with a broader cross-section of people. I'm excited that Brooklyn's public schools will open 20 new bilingual programs in the coming school year, including new offerings in Arabic, Chinese, French, Spanish, and Urdu. I thank DOE Chancellor Carranza for leading the rollout of this initiative's expansion," said Brooklyn Borough President Eric Adams.
"Roughly 40 percent of Manhattanites speak a language other than English at home. Truly equitable, accessible public education means we must recognize how diverse our learners are and invest in education programs to fit every student's needs," said Manhattan Borough President Gale A. Brewer. "Both for English language learners and also for primary English speakers, bilingual education is an important resource that opens up new avenues and new possibilities."
"I am pleased that students at PS/IS 268 in my district and all around the city, will be given the opportunity to participate in this innovative, immersive dual language program," said Senator Leroy Comrie. "I commend the Department of Education for leveraging language diversity in our city's schools to bring students together for unique educational opportunities."
"Expanding the dual language program is an important step in improving diversity in our schools. Exposing young children to a foreign language at an early age prepares them for a brighter future in a global society. Hopefully this program will expand to more areas including more South Asian, Mandarin and Korean language programs for Flushing," said Senator Toby Ann Stavisky.
"These 48 new dual language programs including the new Korean program at I.S. 25 Adrien Block are a tremendous opportunity for New York City's diverse students, particularly those in my Queens district, where we celebrate the ability to speak several languages," said Senator Tony Avella. "I thank the New York City Department of Education for these new programs and look forward to more work like this in the future."
"As the representative of what I call the United Nations of all senatorial districts, located in the borough where there are the most spoken languages in the world, I see firsthand how having the ability to speak another language and understand another culture is vital to competing in the 21st century marketplace," said Senator Jose Peralta. "Dual-language programs are essential, and I am glad DOE is expanding this program, particularly by bringing a dual language program in Spanish for PS 330, in Chinese for PS 13, as well as the transitional bilingual program in Bengali for Bryant High School. This is a clear reflection of who we are as a city of immigrants."
"As the face of the community continues to change, it is important that we offer our children the opportunity to speak a second language and learn about different cultures," said Assembly Member Jeffrion Aubry. "The Dual Language Program provides this enormous learning opportunity for students to expand their communication and to embrace others who do not speak English."
"In the global world we live in, individuals who can speak more than one language have a big advantage over those who cannot," said Assembly Member Brian Barnwell "Dual language programs provide our students with an advantage that will help them throughout their lives. I am happy to see Bryant High School introducing a new Bengali Bilingual program."
"I want to thank the DOE for adding 48 dual language programs, including a Korean language program at I.S. 25," said Assembly Member Edward C. Braunstein. "In today's global economy, the ability to speak multiple languages is becoming increasingly more valuable. Since many children in Northeast Queens already begin to learn the Korean language at home, it only makes sense to refine those skills in a school setting."
"As the world's borough, you can hear hundreds of languages and dialects spoken around Queens daily. However, it is one thing to hear your neighbor, but to understand their words and their culture connects us on a deeper level," said Assembly Member Alicia Hyndman. "Teaching our children to speak and read a different language will help them develop skills they need to navigate the modern world."
"I was extremely pleased to hear about the expansion of these dual language programs to Flushing, particularly the first ever middle-school level Korean dual language program in New York City," said Assembly Member Ron Kim. "Students benefit highly from bilingual education and providing continued education beyond elementary school will help cement the benefits from these programs. We sincerely thank all of the organizations, advocates, and community leaders who never waivered in advocating for expansion of these programs, and look forward to both their continued growth and the future benefits they will bring to students."
"I'm thrilled to hear that the dual language program is now at IS 77. Students will now have the opportunity to learn and understand Spanish in their classrooms. I hope this program can continue in other schools in my district," said Assembly Member Michael Miller.
"I was pleased to hear that New York City will open 48 new bilingual programs citywide starting this fall. Growing up in an immigrant, bilingual household, it was really important to my parents that I had the opportunity to practice my language skills and gain as much exposure to my culture and heritage as possible. Outside of our home, this could be difficult. Bilingual programs help to ensure that young students' are able to immerse themselves other languages and cultures in the classroom," said Assembly Member Yuh-Line Niou "I have seen how these programs teach kids the value of multiculturalism and inclusion and help to expand their worldview. In addition, for parents whose first language is not English, many of them value the chance to speak to teachers and administrators about their child or children's education in a language of their choice. While only three programs are opening in Manhattan this fall, I hope to see more bilingual programs launch in Manhattan in next year and in the years to come. Thank you to Chancellor Carranza for his work to expand bilingual education opportunities across our city, and I look forward together working with my colleagues to ensure that language access is a priority for our students and our communities."
"These new bilingual programs are great news for NYC public schools," said NYC Council Finance Chair Daniel Dromm. "I am so glad PS 7 and PS 13 in my district will benefit from the expansion of this initiative. These students will acquire language skills that will benefit them for years to come. I celebrate this progress and will continue to work with the DOE to move this effort forward."
"As a first-generation American and former teacher, I know firsthand the transformative role of bilingual education in ensuring that children of all backgrounds have the necessary opportunities and resources to succeed," said Council Member Margaret S. Chin. "The addition of 44 new Dual Language and Transition Bilingual Education programs in the fall will help advance the City's mission of inclusion by educating students on different cultures, developing the language skills needed to thrive in an increasingly diverse workforce, and ensuring that every public school continues to be a welcoming space for immigrant families. Thank you to Mayor De Blasio and Chancellor Carranza for your work to promote and expand this important program."
"I am pleased that the Albanian Dual Language Program, the first in NYC and the United States will soon be a reality in District 13 in the Bronx, at the Abraham Bernstein-P.S. 105 School," said Council Member Mark Gjonaj. "New York City is the melting pot of ethnic and cultural diversity and I am proud as an Albanian American elected official, to have worked on this initiative. I salute the NYC Department of Education for their commitment to support programs that reflect the diversity and the fabric of this great city."
"I'm very happy that PS 22Q will be the recipient of a new Spanish-language bilingual program. No matter what language you speak, it is imperative that all of our youngest New Yorkers are afforded an even playing field in their quest for a well-rounded education," said Council Member Peter Koo. "New Yorkers are fortunate to have an administration that actively seeks to teach our children in their own language while simultaneously working to build pathways to English fluency."
"This program isn't just a fantastic educational opportunity, it's a powerful social initiative," said Council Member Francisco Moya. "Not only will it help our young people exercise new mental muscles and engage with the Latino community, it also signals to Spanish speakers everywhere that their cultures are valued—at a time when Latinos continually find themselves under threat by some of our nation's elected officials."
"As the co-founder of two schools, including one for newly-arrived teenagers from Latin America, and having taught at a New York City public school for thirteen years, I understand the importance and value of bilingual education. One of the greatest things about our city is its cultural diversity. By expanding bilingual programs, we make it easier for students to transition to school from a non-English speaking household and embrace their heritage," said Council Member Ydanis Rodriguez.
"As the co-founder of two schools, including one for newly-arrived teenagers from Latin America, and having taught at a New York City public school for thirteen years, I understand the importance and value of bilingual education. One of the greatest things about our city is its cultural diversity. By expanding bilingual programs, we make it easier for students to transition to school from a non-English speaking household and embrace their heritage," said Council Member Ydanis Rodriguez.
"Bilingual programs are a critical service in our city and open doors to many of our students who are facing language barriers in their education," said Council Member Paul Vallone. "The addition of Korean bilingual programs at I.S. 25 will provide a great service to a large population in Northeast Queens and I look forward to seeing these bilingual programs continue to expand throughout the city."
"Increasing Dual Language and Transition Bilingual Education programs in our schools is of great service to our students and their families," said Council Member Jimmy Van Bramer. "I'm especially excited to see the Bengali language program come to William Cullen Bryant High School. This new program will help students form deeper connections with their peers and community. Expanding language options for our students demonstrates our city's commitment to diversity and inclusion and will expand opportunities for our students both in and out of the classroom."
"We see a huge need for more bilingual programs to serve the city's diverse immigrant and English-language-learner students, including those with disabilities. It is good to see the city take steps to expand options for English Language Learners, who continue to lag far behind their peers in academic achievement and graduation rates," said Kim Sweet, Executive Director, Advocates for Children of New York.
"In one of the most diverse cities in the United States, where over 180 different languages are spoken, it is encouraging when our city agencies take steps towards celebrating and building upon that diversity. We must continually grow our investment and commitment to the development of a multilingual population. We must always reflect the view of multilingualism as the tremendous skill set that it is, rather than approaching language development from a deficit model. CHCF commends the NYC Department of Education on continuing to demonstrate this belief by introducing 48 new bilingual programs in the coming fall," said Ramon Peguero, Executive Director, Committee for Hispanic Children and Families. "We know that these programs, when implemented at the highest quality, develop critial cognitive skills and language acquisition, in addition to teaching our children to embrace and celebrate other cultures – moving us towards a more culturally responsive model of education. We look forward to the continued expansion of these programs."
"We applaud Chancellor Carranza and the Department of Education for continuing to add new bilingual programs," said Steven Choi, Executive Director of the New York Immigration Coalition. "In these difficult times for immigrant families, bilingual programs send a powerful message that families' home language is a valuable asset. These new programs are important for our immigrant youth's success, and we look forward to continuing to work with the DOE to further map bilingual programs to needs across New York's diverse immigrant communities."
Read the article in Spanish here.
---