---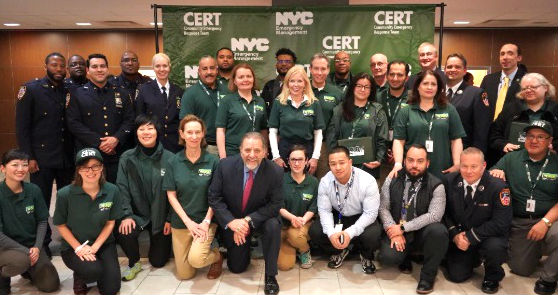 New York City Emergency Management Commissioner Joseph Esposito, NYPD Auxiliary Inspector Phylis Byrne, and FDNY Deputy Chief James Brosi presided over a graduation ceremony for 48 Community Emergency Response Team (CERT) volunteers. The graduation was held Wednesday, December 12, 2018, at the New York City Emergency Management Department headquarters in Brooklyn. The CERT graduates completed a training program in disaster preparedness and basic emergency response skills that included lessons in fire safety, search, and rescue, traffic management, first aid and triage. After completing training, CERTs support their local communities by assisting City agencies that prepare for and respond to emergencies.
"CERT volunteers play a crucial role in how New York City communities prepare for and respond to emergencies. Our continued partnership with the NYPD and FDNY ensures that volunteers receive the training necessary to effectively assist first responders," said NYC Emergency Management Commissioner Joseph Esposito. "The new class of 48 graduates will join more than 1,300 CERT volunteers who are willing to assist their communities before, during, and after emergencies."
The Manhattan CERT team serving Community Board 1 will gain two new members, the CERT team serving Community Boards 4 and 5 will gain five members, the team serving Community Board 6 gains five, Manhattan CERT 7 gains four members, Manhattan CERT 11 gains two, and the team serving Community Board 12 gains one new volunteer.
The graduates participated in a 10-session training course, which began in October. In addition to the 19 CERT graduates joining Manhattan teams, 20 will be joining Brooklyn teams, five will be joining Bronx teams, and four will be joining Queens CERT teams.
"We have to be proactive in our communities, so that we are prepared before, during, and after emergencies. While the job of CERT includes assisting first responders during emergencies, our role as community spokespeople is just as important," said Jannette Diaz from Washington Heights. "With the help of NYC Emergency Management's Ready NY program, we can go into our communities with the resources to help community members prepare for emergencies." Diaz will be joining the Manhattan 11 CERT team.
"As a retired emergency medical technician, I was very impressed with the CERT training program," said Cynthia Esposito from the Upper West Side. "The instruction and hands-on training we received was unlike anything I ever experienced. I'm eager to join my fellow CERT members on the Upper West Side as we work to prepare our neighborhoods for disaster." Esposito will be joining the Manhattan 7 CERT team.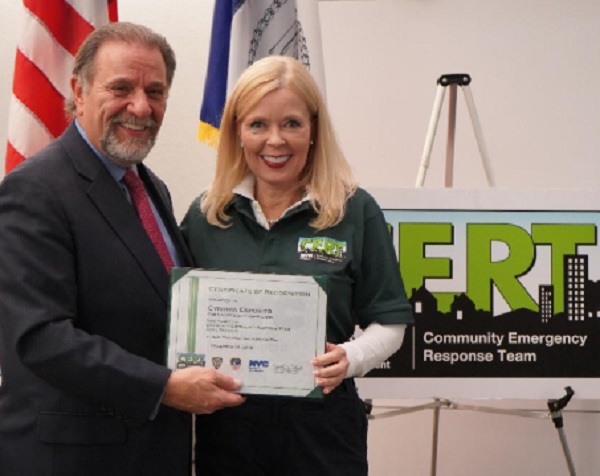 During the ceremony, the 2018 John D. Solomon Award for Exemplary Service in Emergency Preparedness Education was presented to Virginia Rosario, Ready NY liaison of Manhattan 6 CERT. A member of CERT since 2006, Rosario was recognized for her extensive efforts to prepare the midtown east Manhattan communities for emergencies Following Hurricane Sandy, Rosario began to organize Ready NY presentations throughout her community, starting in Stuyvesant Town-Peter Cooper where she lives, an area which experiences frequent flooding, followed by local churches, schools, and senior centers. She also regularly provides Ready NY presentations at local precincts, for clergy and faith leaders. The Manhattan 6 CERT team serves neighborhoods including Gramercy Park, Kips Bay, Murray Hill, Peter Cooper Village, Stuyvesant Town, Sutton Place, Tudor City, and Turtle Bay.
Community Emergency Response Teams (CERT) in New York City
The New York City CERT program started in 2003 with 106 volunteers. The new Cycle 32 CERT graduates will join more than 1,300 credentialed CERT volunteers representing more than 50 teams throughout New York City. The 48 graduates received training from a number of the city's highly trained emergency responders, including 13 FDNY instructors, seven FDNY/EMS instructors, seven NYPD instructors, and nine NYC Emergency Management liaisons.
For more information visit NYC.gov/cert.
---