---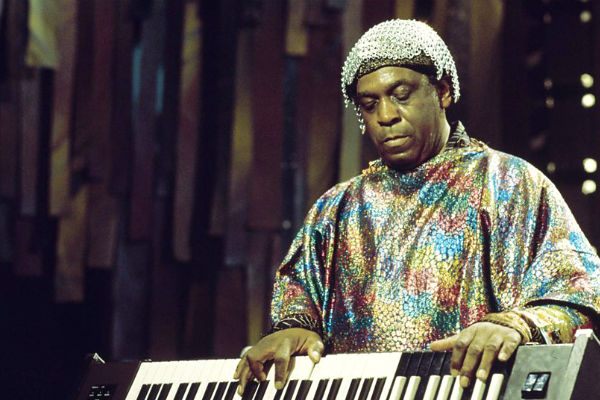 Harlem Stage, the legendary uptown venue that for over 35 years has promoted the creative legacy of Harlem and artists of color from around the corner and across the globe, is proud to present its Fall 2019 seasons of performances. The season is curated by Monique Martin, Director of Programming for Harlem Stage, and will celebrate the centennial legacy of the Harlem Renaissance. The season also welcomes legendary rock goddess, Monique Martin, as the Artistic Director for Harlem Stage's new yearlong initiative focusing on Sun Ra and Afrofuturism. The initiative will present performances that interweave music, technology, talks / conversations / humanities, literature and dance to celebrate the legacy of visionary and pioneer of Afrofuturism, Sun Ra, along with the contributions of the countless artists he has inspired. Through these two powerful themes, which will carry into the 2020 season, Harlem Stage will reflect on and celebrate the past, present and artistic future of Harlem and explore how the Harlem Renaissance continues to be a rich source of inspiration across the globe while Afrofuturism continues to push the boundaries of our artistic imagination.
Harlem Stage's 2019 fall season will feature a variety of performances, across a range of artistic genres, offering audiences the chance to experience legendary performers, as well as rising stars.
Two powerful discussions will be presented as part of Harlem Stage's discussion series, Dive Deeper. On August 15th, in advance of the fall season and ahead of the 50thAnniversary of the Harlem Cultural Festival (aka Black Woodstock) concert by SummerStage in Marcus Garvey Park, Harlem Stage brings together notable social activist and MC, Talib Kweli, acclaimed musician, Igmar Thomas (Leader of the Revive Big Band,Lauryn Hill), GRAMMY Award-Winning Trumpeter and Vocalist Keyon Harrold (Common, Jay-Z), legendary percussionist Juma Sultan (Jimi Hendrix's former percussionist), Toni Blackman (Actress, Writer, Hip-Hop Ambassador to the U.S. State Department) and others for a unique dialogue about art and activism. On October 17th, artists MuMu Freshand Jason 'Timbuktu' Diakité will discuss the impact of Hip-Hop culture and music around the world.
New this season is The Cosmic Synthesis of Sun Ra and Afrofuturism Series, a yearlong celebration of the spiritual, sonic and social impact of the Sun Ra's work curated by Artistic Director of the series, Nona Hendryx with Craig Harris as Musical Director and Composer. The series is commissioned and presented through Harlem Stage's WaterWorks commissioning program.The first event in the series, Order of Chaos, will kick off the 2019 fall season on September 20thwith a night of Afrofuturistic films and music. Film screenings are curated by filmmakers Craig T. Williams and Celia C. Peters, who will lead a post screening conversation that will examine and celebrate the genre that is flipping the script on Black narratives. Audiences can enjoy screenings of "Prototype," where a programmer conducts a painful empathy test on lifelike androids in an attempt to win her mother's approval, and "ROXË15," which focuses on Roxë Jones, a virtual reality programmer in a stark, near-future New York City. Hell-bent on a getting to a better life, she bets her future on technology. The evening culminates with a performance featuring rock goddess and futurist, Nona Hendryx, and Darian Dauchan of The Brobot Johnson Experience. For the next performance in the series, in partnership with the Park Avenue Armory, Nona Hendryx joins Theaster Gates, and other special guests fora special tribute to Grace Jones. For the final event in the series this season, Nona Hendryx, Moor Mother and Black Quantum Futurist, will offer Afrofuturistic musical performances.
Also new this season, Harlem Stage presents the first annual Harlem Doc Fest, in partnership with The Documentary Forum at The City College of New York, Maysles Documentary Center, New York Latino Film Festival and Third World Newsreel. Harlem Stage is proud to host the opening of this dynamic new documentary film festival with a screening, conversation and reception on November 15th. The Harlem Doc Fest will explore the cultural richness and history of Harlem along with critical issues impacting the community. This weekend-long curated festival of feature and short documentary films will present screenings throughout Harlem and include conversations with filmmakers, actors and scholars. The film selection is forthcoming.
Harlem Stage will also present two nights of live radio plays on November 21stand 22nd. The Renaissance EP: A Theatrical Mixtape, created by Harlem Stage's Director of Programming Monique Martin and curated by playwright/actor NSangou Njikam (author of Synching Ink), explores the impact and resonance of the Harlem Renaissance after 100 years. Combining music, theatre and imaginative Foley i.e. beat boxer, The Renaissance EP takes you on an anthropological excavation through time and space to explore the power and legacyof a neighborhood that has been described as the epicenter of Black Culture and the Radical Black Imagination.
Musical highlights include two evenings of performances from GRAMMY nominee Maimouna Youssef aka MuMu Fresh. For the first evening, MuMu Fresh offers a healing concert that pays tribute to her rich heritage and ancestors by using tones that correspond to chakras and a range of soothing instruments. For the second evening, this powerhouse lyricist and MC performs material from her recently recorded album, produced by DJ Jazzy Jeff and The PLAYlist titled, "The Healing."
Carnegie Hall Citywide and Harlem Stage present The Baylor Project, which consists of two-time GRAMMY nominated husband-and-wife vocalist team Jean Baylor and drummer Marcus Baylor. Deeply rooted in jazz, Jean has performed with such stars as Marcus Miller and Buster Williams, while Marcus is a former member of the legendary Yellowjackets—their eclectic musical style is also steeped in gospel, blues, and soul.
In a special evening celebrating the Harlem Renaissance, with Check your Invite! A Renaissance Rent Party Remix, Actor/Playwright/Storyteller Daniel Carlton will examine the hundreds of colorful parties that beloved Harlem Renaissance writer Langston Hughes was invited to. Carlton will create a world from archival historical invitations to dramatize Harlem history from the 1920's – 1960's using the settings of the various parties, and the audience will be invited to wait for Langston Hughes to arrive, as they meet the party hosts and other guests. The evening culminates in a party with Harlem's DJ NessDigital spinning classic jazz and soul from bebop to hip hop, soul and funk.
Closing out the season, catch rising jazz vocalist Brianna Thomas and her band Fa-La-La-La Funk! as they bring the funk to classic holiday tunes we know and love with a blend of jazz, R&B, and gospel. The concert will be peppered with songs from Brianna's eagerly anticipated sophomore album 'Everybody Knows."
"Sun Ra, Afrofuturism, and the Harlem Renaissance can be seen as points along a temporal spectrum. Those points can be located in space through the programs of Harlem Stage. These seemingly disparate artistic movements are connected as manifestations of intense and impactful creative energy by artists of color. In exploring both of these movements and the artists who galvanized them, we learn about their achievements, their failures and their intentions," said Patricia Cruz, Executive Director of Harlem Stage.
Monique Martin, Director of Programming, said "This season at Harlem Stage, we are reflecting on the past while looking towards the future. Our performances celebrate the legacy of the Harlem Renaissance, while discovering pathways to create a better future. Afrofuturism is the ticket to reimagining Black identity, and performances this season will examine what exactly that looks, sounds and feels like."
Nona Hendryx, Artistic Director for Afrofuturism, said "Afrofuturism is Afropresent and Afropast, it is not only fiction, it is not only science, it is a future created in the mind, projected and seen through the lens of the African diaspora, it is part Science Fiction and Fact. In my role as the Artistic Director of The Harlem Stage 2019 to 2020 exploration of Afrofuturism, I will lead the curation of a year long program. The programs will include Music, Technology, Literature, Film and Dance events celebrating the magical and fantastical world of Sun Ra 'Space Is The Place" and his long line of disciples; from George Clinton to Janelle Monae; collapsing time; past, present and future, space and place, inner and outer worlds, traveling to Stars, Quasars, Suns, Moons and delving into Black Holes.
Harlem Stage is the performing arts center that bridges Harlem's cultural legacy to contemporary artists of color and dares to provide the artistic freedom that gives birth to new ideas.For over 35 years Harlem Stage has been one of the nation's leading arts organizations, achieving this distinction through its work with artists of color and by facilitating a productive engagement with the communities it serves through the performing arts. With a long-standing tradition of supporting artists and organizations around the corner and across the globe, Harlem Stage boasts such legendary artists as Harry Belafonte, Max Roach, Sekou Sundiata, Abbey Lincoln, Sonia Sanchez, Eddie Palmieri, Maya Angelou and Tito Puente, as well as contemporary artists like Maimouna Youssef aka MuMu Fresh, Jason 'Timbuktu' Diakité, Bill T. Jones, Christian Scott aTunde Adjuah, Tamar-kali, Vijay Iyer, Mike Ladd, Stew, Meshell Ndegeocello, Jason Moran, José James, Nona Hendryx and more. Its education program each year provides over 2,000 New York City children with an introduction and access to the rich diversity, excitement and inspiration of the performing arts. In 2006, Harlem Stage opened the landmarked, award-winning Harlem Stage Gatehouse. This once abandoned space, originally a pivotal source for distributing fresh water to New York City, is now a vital source of creativity, ideas and culture. Harlem Stage is a winner of the William Dawson Award for Programming Excellence and Sustained Achievement in Programming (Association of Performing Arts Presenters).
Ticketing Information
Box Office Hours: Regular box office hours are 10AM–3PM Monday through Friday, except on performance days when the box office remains open until one hour after the start of the performance.
By Phone: 212.281.9240 ext. 19
Online: www.HarlemStage.org
Box Office Location: Harlem Stage Gatehouse (150 Convent Avenue at West 135th Street, Manhattan), www.harlemstage.org.
Photo credit: Wikipedia.
---