---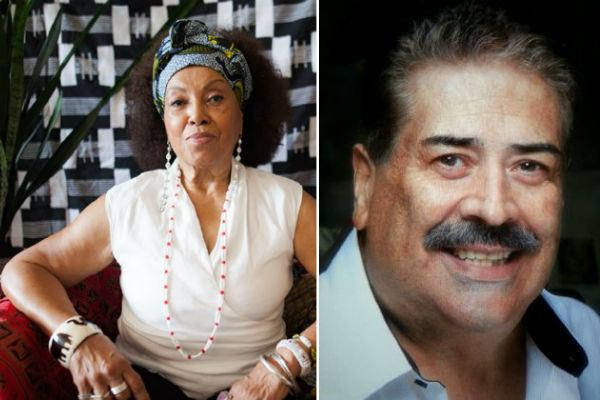 The Caribbean Cultural Center African Diaspora Institute is pleased to present Celebrating Sacred to Secular: The Writings of Dr. Marta Moreno-Vega a program exploring the African roots of the popular Latin music of the famed Palladium Era.
Dr. Marta Moreno Vega, in her books Altar of My Soul and When the Spirits Dance Mambo, threads the African ritual rhythms to the popular music of the Mambo Era in New York City. She vividly recalls her brother Alberto Moreno, who would call his sisters from the historic Palladium dance club so they could hear the orchestra of Machito and the Afro-Cubans play to the Yoruba god, Shango. There has been limited discourse regarding the important influence of musicians like Chano Pozo, Tito Puente
, Ray Barreto, Celia Cruz
, Richie Ray, Bobby Cruz
, La Lupe, Mongo Santamaria, and many others who brought the music and songs from sacred settings to the popular stage which helped sustain the ancient spirits and divinities of Africa in our memories.
Celebrating Sacred to the Secular includes a brief discussion on this important and yet lesser-known history shared through the experiences of musician John "Dandy" Rodriguez
, long-time member of the Tito Puente Orchestra and Dr. Marta Moreno Vega, author of When the Spirits Dance Mambo
and Altar of My Soul
. The discussion will be followed by a live musical presentation by The Dream Team led by Johnny "Dandy" Rodriguez providing the audience with the opportunity to dance to music that made the African divinities present in the secular realm.
The program is curated by Dr. Marta Moreno Vega, Founder of Creative Justice Initiative and Caribbean Cultural Center African Diaspora Institute and is a collaboration of the Caribbean Cultural Center African Diaspora Institute and the Creative Justice Initiative. This panel is part of the Art of Justice Series and Race, Myth, Art, and Justice project.
Dr. Marta Moreno Vega is the President and founder of the Creative Justice Initiative. She established the Caribbean Cultural Center African Diaspora Institute (CCCADI) in 1976, inspired by a vision to create an international organization to promote and link communities of African descent. She guided the capital campaign for the renovation of the landmark firehouse at 120 East 125th Street, the Center's new home. Dr. Moreno Vega has been an advocate for cultural equity cultural studies and education. As an educator she has taught at both Baruch College and New York University. She was the second director of El Museo del Barrio, one of the founders of the Association of Hispanic Arts, Network of Centers of Color and the Roundtable of Institutions of Color. Dr. Moreno Vega has contributed to assuring that the contributions of African and African descendants are integral to the lives of civil society in the Americas. She has conducted research in Yoruba belief systems in the African Diaspora and has organized international conferences uniting scholars and leading traditional experts focused on expanding the knowledge and importance of sacred African Diaspora traditions.
Moreno Vega is co-founder of the Global Afro Latino and Caribbean Initiative (GALCI), a former program of Hunter College/Latin American and Caribbean Studies Program. She is chief editor of Women Warriors of the Afro-Latina Diaspora (Arte Publico Press) and author of The Altar of My Soul (One World/Ballantine, 2001). She is director and co-producer of the documentary When the Spirits Dance Mambo: Growing Up Nuyorican in El Barrio and has written a personal memoir by the same name (Three Rivers Press, 2003, Black Classic Press, 2018). Dr. Vega is also co-editor of Voices from the Battlefront Achieving Cultural Equity. Dr. Vega is recognized globally for her contributions as a respected scholar, producer, activist, educator, author, professor, and Yoruba priestess.
John Rodríguez Jr., better known as "Dandy" Rodríguez, is an American bongo player and bandleader. Raised in East Harlem, he is the son of the late Johnny "La Vaca" Rodríguez (1930-2000), a prolific conguero and bongosero of Puerto Rican ancestry who played in the bands of Noro Morales, Xavier Cugat, Machito, Tito Puente and Tito Rodriguez (preceding his son in both cases) among others. Influenced by his father, John earned a position playing bongos in the Tito Puente Orchestra at age 17. He spent over 30 years with the orchestra, also working with Tito Rodríguez from 1965 to 1968 and with Ray Barretto from 1970 until the end of 1972. Rodriguez went on to form Típica 73, of which he remained a member until 1979. He then returned to Tito Puente's band, playing alongside him until the time of Puente's death in May 2000. Shortly after Tito's death the Puente estate decided to stop any further performances under the Puente name. With dedication to their music and fans John got together with Jose Madera and Mitch Frohman and they formed the Latin Giants of Jazz. Under John's leadership the band has released three albums which have been recognized internationally, staying on top-ten charts worldwide as well as receiving awards. He later formed his Dream Team Band in 2016.
In 2016, John "Dandy" Rodriguez, Jr. established his Dream Team, drawn from New York City's first-call musicians such as Frankie Vasquez, Jeremy Bosch, Gerry Madera, Doug Beaver, Yeisson Villamar, George Delgado, Pete Nater, Nelson Gonzalez, Willie Alvarez, and Ricky Gonzalez. These are some of the most inventive musicians, capable of making each tune sound fresh and new and all great soloists. Dandy and his Dream Team play what they call "hardcore Latin music," most of their repertoire is Cuban and many are compositions made popular during the Palladium Era. Rodriguez is especially partial to the La Perfecta songs of Eddie Palmieri, part of the La Perfecta 11 and original Perfecta.
Founded in 1976 by Dr. Marta Moreno Vega, the Caribbean Cultural Center African Diaspora Institute (CCCADI) is a vibrant home for global Afro-descendent cultural programming. A multi-disciplinary center based in East Harlem, New York City, CCCADI integrates art, education, activism, and conscious cultural tourism to foster social transformation. The Center documents and present the creative genius of African Diaspora cultures; prepare the next generation of cultural leaders; and unite Diaspora communities. CCCADI carries out its mission through public art exhibitions, performances, educational programs, workshops, conferences, and international exchanges, and reaches more than 20,000 people annually throughout New York City, Latin America, the Caribbean, Africa and Europe.
Foundations: American Express Foundation, Andrew Mellon Foundation, Andy Warhol Foundation for the Visual Arts, Carlos & Suzy Pagan Foundation, Ford Foundation, The Hearst Foundations, Hispanic Federation; New York Women's Foundation, New York Community Trust, Pinkerton Foundation, Rockefeller Brothers Fund, Shelley &Donald Rubin Foundation, Tides Foundation, Time Warner Foundation; Corporations: Bronx Lebanon Hospital; Con Edison, United Health Care; Public: New York City Department of Cultural Affairs, New York State Council on the Arts, NYC & Co., Upper Manhattan Empowerment Zone; Manhattan Borough President Gale Brewer, New York State Senator Kevin Parker, New York Council Member Bill Perkins, New York State Assembly Member Carmen Arroyo, New York State Assembly Member Robert Rodriguez, New York City Council Member Diana Ayala, New York City Council Member Laurie Cumbo; Community Organizations: Casabe House, Greater Harlem Chamber of Commerce, Harlem Community Development Corporation and other generous individual donors.
Thursday, October 17, 2019, 6 – 8 pm.
The Caribbean Cultural Center is located at 120 East 125th Street, between Lexington and Park Avenues in Manhattan. Admission is $10 and tickets may be purchased via eventbrite, https://www.cccadi.org
Photo credit: Dr. Marta Moreno-Vega and John "Dandy" Rodriguez.
---