---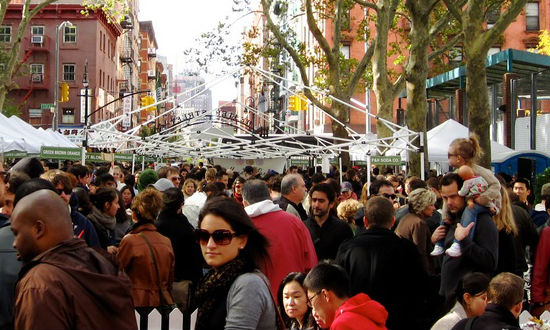 To rephrase the great humorist and philosopher Mark Twain: reports of the death of Yiddish are greatly exaggerated. 
Yiddish culture was alive in Harlem at the turn of the century (the Gershwin's, Morris Harris Designer Of The Flag Of Israel, etc.,), today it is alive and flourishing throughout the world, and it will be on vivid display for a full week in New York this summer.
Coinciding with the National Yiddish Theatre Folksbiene's 100th Anniversary Season, KulturfestNYC, the first-ever international Jewish performing arts festival, will bring together hundreds of global acts in Jewish and Yiddish theatre, music, dance, cabaret, and film, from more than two-dozen countries, performing in multiple citywide locations  from June 14-21.
"What better way to showcase the international commitment to this culture than by having this week-long festival right here in the capital of the world, New York City," said Bryna Wasserman, Executive Director of the award-winning National Yiddish Theatre Folksbiene, the longest consecutively-producing Jewish Arts organization. "KultufestNYC is about celebrating our culture in all its depth and scope- in all its uniqueness that is thriving across the globe. To produce this type of festival in such magnitude has never been done before, that itself is truly exciting and humbling."
"It's an historic occasion," added Zalmen Mlotek, NYTF Artistic Director. "The Festival line-up is comprised of so many talented artists, from up-and-comers to Grammy winners. With dozens of programs spanning Manhattan from the seaport to uptown, from klezmer concerts to full-scale productions, it's going to be an incredible week with plenty of activities for New Yorkers and visitors alike. It's a tribute to life, work, and legacy and an investment for future generations."
KulturfestNYC, which is presented by NYTF, in collaboration with UJA-Federation and some 20 other major Jewish arts and cultural organizations, will feature acts from South Africa, Canada, Poland, Israel, Romania, France, Australia, Russia, Poland, Hungary, Japan, Germany, Israel, Mexico, Belgium, Canada, The Netherlands, Spain, and the U.S.; symposia featuring the top Yiddish scholars from around the world; a street and food festival; exhibitions; cabaret; films; the world's first international Jewish playwriting contest, and much more.
"It's extraordinary to see this all come together," says NYTF Executive Producer Chris Massimine, "This culture has such a strong heart and a deep soul that continues to captivate audiences of all ages, ethnicities, and religions."
This extravaganza of global talent all coming together to inspire, educate and entertain kicks off at the Winter Garden at Brookfield Place on June 14, when  KulturfestNYC partner Arts Brookfield presents the Grand Opening Concert, a free evening of global pageantry featuring the Grammy Award-winning Klezmatics and special guests.
For more information about KulturfestNYC or National Yiddish Theatre Folksbiene, please visit www.nytf.org or call (212) 213- 2120).
Related Articles
---