---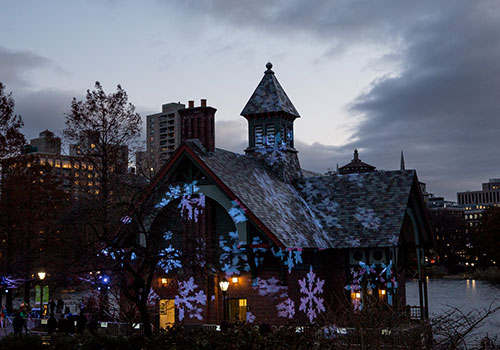 The Central Park Conservancy presents the 23rd Annual Holiday Lighting, sponsored by Consolidated Edison and hosted by the Women's Committee of the Central Park Conservancy. The free event will feature a chance to meet Santa and friends, caroling by The Mistletones, a special performance by the New Amsterdam Boys & Girls Choir and hot cocoa and cookies. The event is rounded out with its signature Holiday Tree Flotilla Lighting on the Harlem Meer. This event is open to all ages and credentialed members of the media. For more information, please visit Central Park Conservancy Annual Holiday Lighting.
The Central Park Conservancy is a private, not-for-profit organization that manages Central Park and is responsible for raising the Park's annual operating budget. The Conservancy's staff of more than 300 is responsible for all aspects of the Park's stewardship, from day-to-day maintenance and operations to continued restoration and rebuilding projects. The Conservancy also operates the Park's visitor centers, provides public programs, and serves as a resource for other NYC parks and for public-private partnerships around the world. To learn more about the Conservancy, visit centralparknyc.org. Follow the Central Park Conservancy on Twitter, Instagram, and Facebook at @centralparknyc.
Behind some of the Conservancy's most impactful work is a powerful team of fundraisers and Park ambassadors. The Women's Committee raises an incredible $10 million of the Conservancy's nearly $85 million annual budget and has raised over $185 million to date. This dynamic collective was founded in 1983 by four women with a passion for preserving and beautifying Central Park and is governed by its own Board of Directors. Now with a membership of 1,000 women strong, Women's Committee programs enable anyone to make a personal investment in the Park. For more information, visit centralparknyc.org/womenscommittee and follow us on Instagram @centralparknycwomenscommittee.
Thursday, December 5, 2019, from 5:30 pm to 6:30 pm
5:30 pm – 6 pm, Photos with Santa and friends
Performances by New Amsterdam Boys & Girls Choir
6 pm – 6:30 pm, Caroling by The Mistletones and Tree Lighting Ceremony
Charles A. Dana Discovery Center (map) entry point is 110th Street, between Fifth and Lenox Avenues, Harlem, New York
---