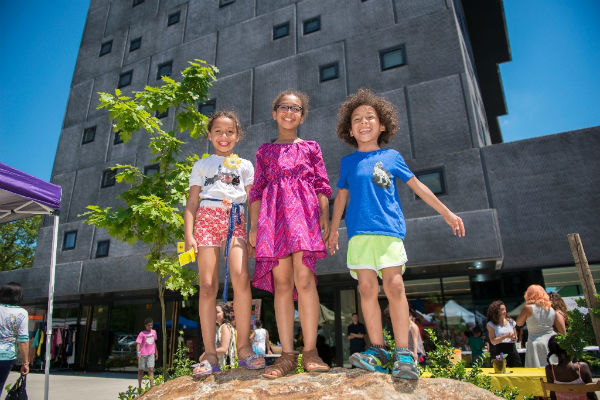 Join Sugar Hill Children's Museum 1st Birthday in Harlem with a fun-filled family day of music and stories, art exhibits and art-making, food trucks and a DJ dance party! Complementary to the museum's programming: the inauguration of two new art exhibitions CHESTER HIGGINS JR.: Passing Through and Z IS FOR ZIGZAG: Directions around Northern Manhattan featuring artists working and living in the community, Lucia Hierro, Robert A. Pruitt, Freddy Rodriguez, and Fernando Tamburini, and presenting the newest Artist-In-Residence Derek Fordjour.
FACE PAINTING AND CHALK ART 
12:00 – 5:00pm, The Stoop
Celebrate with fun face-painting and a chalk art demonstration!
OPENING PATHWAYS: A Ritual Procession & Live Installation
12:00 – 12:30pm, Throughout Museum
Join Maija Garcia/Organic Magnetics, opening festivities with a museum-wide procession of dance.
FLOR BROMLEY 'CHIQUI MUSIC BOOM'
1:30 – 2:00pm, The Living Room
Artist Flor Bromley will present wonderful tales—and will debut her new children's music CD 'Chiqui Music Boom.'
STORIES WITH SCOTT
2:15 – 2:45pm, The Living Room
Explore new worlds and experience new adventures with storyteller and performer Scott Raven.
EL SISTEMA NY/NJ
3:00 – 3:30pm, The Living Room
Enjoy a performance by El Sistema NY/NJ, the amazing group of young musicians inspired by the world-renowned Venezuelan music program.
HERMES, THE TAP DANCING WIZARD
3:45 – 4:15pm, The Living Room
Tap dancer and storyteller Joseph Webb will present his new book through tap dancing, spoken word, and music.
BIRTHDAY PARTY! AND CLOSING
4:00 – 5:00pm, The Living Room
Bop your head and move your hips to DJ Chela, in celebration of the museum's 1st birthday finale!
The Sugar Hill Children's Museum of Art & Storytelling (SHCMAS), the cultural capstone of the Sugar Hill project in Harlem by Broadway Housing Communities, offers year-round art exhibitions, storytelling series, art-making workshops and an early childhood arts education curriculum. Museum programs are designed to nurture the curiosity and creative spirit of three- to eight-year-old children, building the language, literacy and critical thinking skills that lead to lifelong learning.
SHCMAS is located at 898 St. Nicholas Avenue at 155th Street in New York City.
For more information, visit www.sugarhillmuseum.org. Photo: Michael Palma Mir
Related Articles