---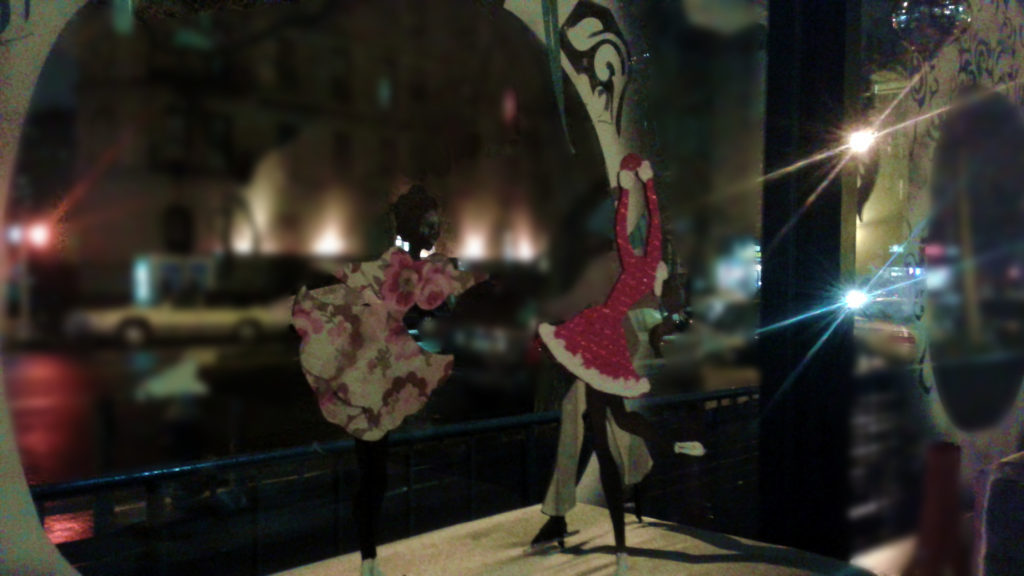 In celebration of the holiday season, as well as Harlem's rich history and culture, the Frederick Douglass Boulevard Alliance (FDBA) is partnering with the Fashion Institute of Technology (FIT).
The project creates a series of nondenominational art installations designed by 15 students from the college's Visual Presentation and Exhibition Design BFA program.Sponsored by the Harlem Community Development Corporation, the installations will depict holiday-themed scenes that tell the story of the Harlem Renaissance from 1910 to 1940, which was defined by the artistic, literary and political activism of Harlem's African American community. The window installations will offer both an educational and festive holiday experience to all who view them, regardless of their background, and will be displayed in eight businesses' windows along the corridor of Frederick Douglass Boulevard between 114th and the 122nd Streets.
"We view Harlem as one of our country's most historically rich communities, and its contributions to the arts are legendary," said Anne Kong, the FIT faculty member overseeing the design project. "[Harlem Holiday Windows] seemed like a wonderful opportunity for our students to learn about this period and its significance on how we view art and culture today, as well as a chance to expose them to this wonderful community as an important part of New York's heritage. The windows they have designed are a result of careful research to create scenes that are both historically accurate and timelessly beautiful."
Harlem Holiday Windows will be on view at the following businesses from November 30, 2016 to January 2, 2017:
Vintage Harlem NYC Wine & Spirits, 2235 Frederick Douglass Boulevard
Chocolat, 2223 Frederick Douglass Boulevard
Vinateria, 2211 Frederick Douglass Boulevard
Lido, 2168 Frederick Douglass Boulevard
Harlem Tavern, 2153 Frederick Douglass Boulevard
Silvana, 300 West 116th Street
Harlem Skin & Laser Clinic, 2119 Frederick Douglass Boulevard
Land Yoga, 2116 Frederick Douglass Boulevard
"We are very excited about working with FIT for the Harlem Holiday Windows Project. A free art installation for all members of the community to enjoy is exactly the type of event we are proud to support," said Susannah Koteen, Co-President of FDBA and owner of local restaurant, Lido. "We look forward to welcoming residents and visitors to experience the window displays along Frederick Douglass Boulevard and all that Harlem has to offer." 
In partnership with ArtCrawl Harlem, Inc. and Harlem Park to Park, FDBA will also offer two free events related to the Harlem Holiday Windows installations. On November 30 at 5:30 p.m., FDBA will host a kickoff event at the Harriet Tubman Memorial on 122nd Street, which will feature an interactive and intergenerational music performance by Shine and the Moonbeams, and on December 3 at 3:00 p.m., Harlem Park to Park will offer an art filled afternoon for kids and adults, which will also start at the Harriet Tubman Memorial and will end at the Shop Harlem Live Harlem Holiday Expo at MIST. Additionally, ArtCrawl Harlem, Inc. will offer two free walking tours on November 30 and December 3, 2016, which will feature live storytellers and vignettes with actors and performers bringing the windows to life. These family friendly outings will include a free children's activity and coloring books, highlighting historical themes of the period, and refreshments from some of the participating restaurants.
In addition to the free tours offered on November 30 and December 3, 2016, a full schedule of paid tours and programming around Harlem Holiday Windows will be offered by ArtCrawl Harlem, Inc. on Saturdays from 3:00 p.m. to 5:00 p.m. from November 30 to December 21, 2016. Registration is available on the ArtCrawl Harlem website, and rates are $10 per person or $150 for groups of 15-25.
"Our aim is that the holiday window displays that will rival Fifth Avenue department stores, while showcasing Harlem's proud history, as well as engaging and supporting the community, its businesses, and most importantly, our youth," said Jacqueline Orange of ArtCrawl Harlem. "ArtCrawl Harlem, Inc. and participating businesses, community organizations and sponsors are working to produce a bolder and bigger holiday window event that will yield even greater benefits for our neighborhood and its members of all ages."
For more information, please visit www.fdballiance.org.
---