---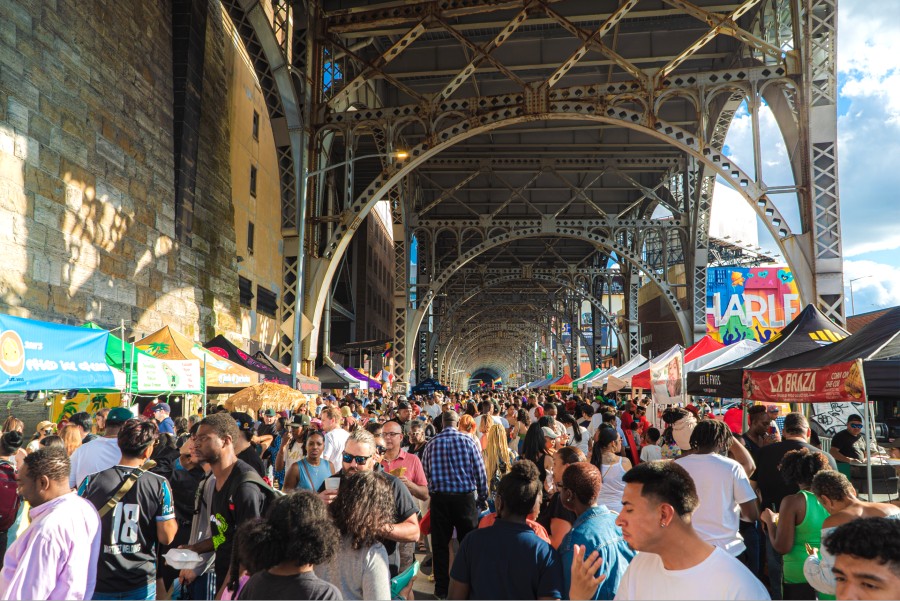 The Uptown Night Market is deliciously celebrating Caribbean Heritage Month.
The famous food and culture festival in Harlem focuses its July 13th event on the food,  cooks, and entertainers representing the colorful spectrum of Caribbean culture. 
MHG Events, known for organizing Uptown, Bronx, Brooklyn, Vegan, and Latin Night Markets, announces this especial celebration, on July 13th from 4 pm at 133rd St & 12th Avenue, West Harlem will come alive as the vibrant spirit of the Caribbean takes center stage. This event promises to immerse attendees in the captivating world of Caribbean culture, offering a fusion of flavors, music, and entrepreneurship, strongly emphasizing supporting minority-owned businesses. 
NYC foodies visiting the famous food & culture festival will enjoy a large variety of Caribbean delicacies such as fish cakes, jerk chicken, chicharrones the pollo, pepper shrimp, vegan fried chicken, oxtail eggrolls, rum cakes, pholourie, and many variations of the beloved plantain. Representing culinary traditions from Barbados, Jamaica, Antigua, Trinidad, Guyana, Dominican Republic, Puerto Rico, and beyond, the Uptown Night Market promises an unforgettable culinary experience. A few of the extraordinary vendors you can expect to encounter include Sassy Fishcakes, Lover Rocks Sea Moss, Clean Meals Brooklyn, Rostacy, Treat Yourself Jerk, Island Love Cakes, Malcriao, Healthy As A Motha, Mia's Cocina, and Mel's Fusion Kitchen.
But this Uptown Night Market event is not solely about food—it's a sensory experience that will transport you to the heart of the Caribbean. Feel the rhythmic beats of live music filling the air as talented musicians take the stage, such as The Tschaka Tonge Experience with an ethnic performance that mixes African beats, Reggae with Jazz, and DJ Cosi showcasing the vibrant sounds of the islands with a special set.  Dance, laugh, and allow the night's energy to envelop you as you connect with the rich cultural heritage that defines the Caribbean spirit.
Join the Uptown Night Market on July 13th, 2023, for an unforgettable food, music, and celebration evening. Take advantage of this remarkable opportunity to immerse yourself in the magic of Caribbean culture.
This event is sponsored by West Harlem Development Corporation, Green Moutain Energy, Truly Hard Seltzer, Sam Adams, Liberty Coca-Cola, Fresh Direct, Harlem Late Night Jazz, and Mike´s Hot Honey, with the support of Borough President Mark Levine and Community Board 9.
MHG is a New York City-based hospitality group passionate about delivering innovative food and beverage experiences for the love-to-eat community. With a focus on diversity, inclusivity, and equity, MHG is dedicated to producing safe, affordable, and aesthetically pleasing events such as Uptown, Bronx, Brooklyn, Vegan, and Latin  Night Markets. The MHG works with various organizations, including NYBG, SummerStage, NYRR, and NYC Ferry, Central Park. Their team is predominantly female and POC and are committed to delivering excellent customer experience, leveraging data analytics, tech innovation, and social media marketing.
---