---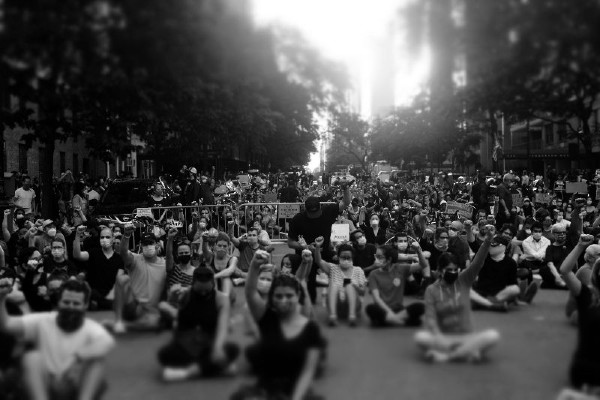 This week, May 13th, 2021, at 6 PM, the Caribbean Cultural Center African Diaspora Institute (CCCADI)  sits down with Terrence Jennings,
featured photographer in our OnProtestandMourning.digital exhibition, and renowned NYC photographer Jamel Shabazz.The conversation will be hosted by the curator of the exhibition Grace Aneiza Ali, CCCADI's Curator-at-Large.
Jennings will discuss his collection of images captured at NYC protests in spring 2020 through summer/fall 2020, "I saw honor and dignity, too!"
Join CCCADI on Facebook for the talk. While you wait, be sure to explore the work of Terrence Jennings within the exhibition: OnProtestandMourningdigital.com
For more information on CCCADI and all our programs please visit us at: www.cccadi.org
On Protest and Mourning, is a multi-media digital exhibition that features Six photographers and filmmakers to examine individual and collective grief triggered by police brutality, state violence and the demonization of Black bodies.
Jon Henry (New York)- Stranger Fruit, Terrence Jennings (New York)- I saw honor and dignity, too!, Vanessa Charlot (St. Louis and Miami)- Am I Next?, Dee Dwyer (Washington, DC)- Justice for Deon Kay, Carlos Javier Ortiz (Chicago) We All We Got, and Nadia Alexis (Mississippi)- What Endures, explore how we can engage in protest and also mark the lives that have been irreparably damaged or lost.
Each body of work is paired with a poem authored by a selection of notable intergenerational Black voices.
The exhibition features an original score, OP&M Prelude, composed by sound artist and pianist Kareem Johnson, that captures the sounds from the Black Lives Matter protests.
Enhancing the digital experience, the exhibit also features online music, curated by Johnson.
Plus, viewing, reading and literary lists, researched by scholar Kimiyo Bremer are included to further explore the collective sorrow.
On Protest and Mourning is curated by Grace Aneiza Ali, Curator-at-Large, CCCADI.
On Protest and Mourning will be available from March 22, 2021 until June 30, 2021. For a calendar of Digital Dialogue Series and to enjoy this exhibit, visit onprotestandmourning.digital
Photo by Terrence Jennings.CCCADI.
---