---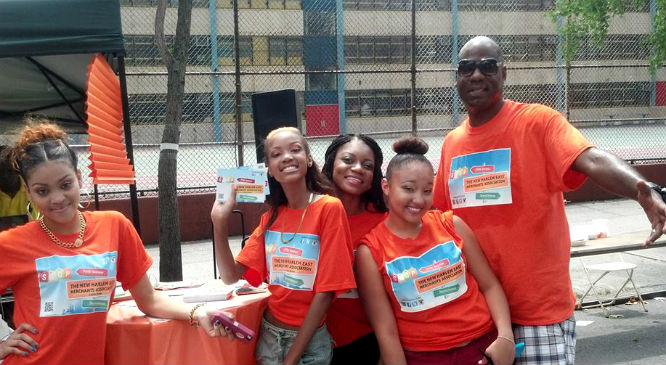 Caribbean Cultural Center African Diaspora Institute (CCCADI) announced the Summer 2014 agenda, releasing all events taking place in June. Events this year will include collaborative efforts with festivals, exhibitions and panel discussions, as CCCADI works to expand news of their move to East Harlem.
The Summer 2014 calendar of events began with "Abdias Nascimento: Artist, Activist, Author" Exhibition, an ongoing free exhibition open to the general public Monday-Friday from 11AM-7PM and Saturdays from 11AM-5PM at The Godwin-Ternbach Museum at Queens College, located at 65-30 Kissena Blvd., Klapper Hall, Flushing NY 11367. The exhibition will run through June 21st, displaying over 40 works of art by Abdias Nascimento, an influential artist and political figure of Brazil and the African diaspora. Organized by the Godwin-Ternbach Museum with John Collins, Director of the Program in Latin American and Latino Studies at the GTM, and in collaboration with IPEAFRO (Afro-Brazilian Studies and Research Institute, Rio de Janeiro, Brazil), the exhibit focuses on "orixás" or Afro-Brazilian deities of the Candomblé religion (sister of Santeria).
Friday, June 20th
CCCADI will collaborate with New Harlem East Merchants Association (NHEMA) for a free community event on Friday, June 20th from 5:30PM and 6:30PM at the Metro North viaduct, located on E. 125th Street and Park Avenue. At this community gathering, Alma Moyo presents the magic of Puerto Rico's bomba y plena music.
Saturday, June 28th
Rounding out the month of June will be two events on Saturday, June 28th.  CCCADI has been invited to participate in the 2nd Annual Afrolatino Festival of New York, a day to celebrate the Afrolatinidad with a day full of free family-friendly activities, food, live music, and an array of vendors. This festival serves as a hub for networking, cultural exchange, and social awareness, and highlights the presence of Afrolatinos in New York City.  The Afrolatino Festival will take place at the intersection of Parkside Avenue and Ocean Avenue in Brooklyn, NY 11226 from 12PM-6PM.
Simultaneously, CCCADI will be at La Casa Azul Bookstore, located at 143 E. 103rd Street, New York, NY 10029, for a reading of Marjuan Canady's children's story, "Callaloo: A Jazz Folktale".  This reading marks the launch of CCCADI's series, EMERGE, designed to support the emergence of new art, new work, and new knowledge from new artists and scholars whose work explores the mosaic African Diaspora. It is a magical tale about little Winston who, while on an errand to get ingredients for a favorite family dish, gets transported back to Tobago and encounters several characters that enliven Caribbean folklore. The author's reading, which will be delightfully accompanied by puppet Winston, will be followed by a dramatic presentation of a traditional Caribbean story by Michael Manswell, artistic director of Trinidad's premiere dance ensemble in New York, Something Positive. Admission is free for children under 12 and $5 for adults.
 For more information, contact (212) 307-7420 ext. 3004 or 3008, or email info@cccadi.org.
---