---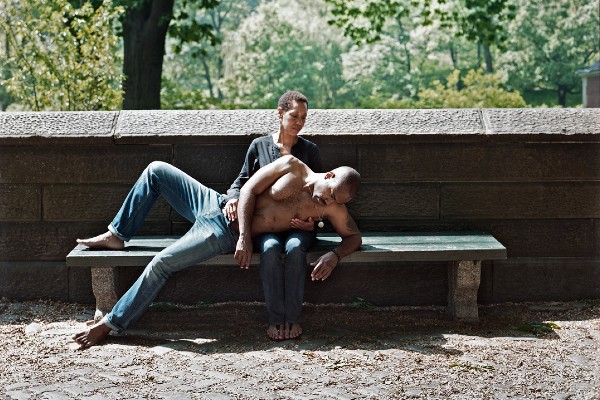 After launching its digital exhibition On Protest and Mourning, the Caribbean Cultural Center African Diaspora Institute-CCCADI unveils its ongoing virtual dialogue series as a free opportunity for exhibition viewers.
The general public to dig deeper into the exhibit's narrative against the state's militarized violence, the emotional and mental brutalities it wields, and the mourning of Black lives loved and lost.
Each exhibition artist will be joined by speakers and facilitators, such as renowned activist Monifa Bandele, a member of the policy table leadership team for the Movement for Black Lives, and the steering committee for Communities United for Police Reform.
Bandele, who has also worked with MomsRising to advocate for economic security and justice for mothers, women, and families, will offer remarks at the opening virtual event, scheduled for April 7, 2021, at 6 PM (EST).
Grace Aneiza Ali, curator of On Protest and Mourning, will host the dialogue series which will run through June.
"Through this Dialogue Series, we hope to engage both artists and activists in helping us navigate timely yet challenging questions: How do we record our outrage against Black death as well as affirm Black life? While we engage in protest and uprising, how can we also mark the lives that have been irreparably damaged or lost? How do we honor our individual and collective grief, privately and publicly?" says Grace Aneiza Ali, Curator-At-Large, CCCADI.
Schedule of On Protest and Mourning Virtual Dialogue Series. All times are EST:
Wednesday, April 7, 2021, 6 PM – 7:30 PM: Jon Henry (Stranger Fruit) and interdisciplinary artist and writer Qiana Mestrich. This discussion will center on Black mothers and the fear of losing their sons. Special guest Monifa Bandele will offer remarks.
Thursday, April 15, 2021, 6 PM – 7:30 PM: Vanessa Charlot (Am I Next?) and Brianna Chandler of Sunrise St. Louis, youth activist and organizer focused on Black and indigenous liberation, will discuss Charlot's documentary series capturing both the Black Lives Matter movement and Black life in St. Louis, Missouri.
Thursday, May 13, 2021, 6 PM – 7:30 PM: Terrence Jennings (I saw honor and dignity, too!) and celebrated photographer Jamel Shabazz will share why they seek out dual concepts of honor and dignity in portrayals of Black life throughout New York City.
Tuesday, May 25, 2021, 6 PM – 7:30 PM: Dee Dwyer (Justice for Deon Kay) will open up about her mission to counter the misrepresentation of the Southeast, Washington, DC community with more genuine documentation.
Tuesday, June 8, 2021, 6 PM – 7:30 PM: Carlos Javier Ortiz (We All We Got) will share how he used his documentary as an elegy for the city and people of Chicago as well as the ways in which his work illuminates the stories too often reduced to stereotypes.
Thursday, June 24, 2021, 6 PM – 7:30 PM: Nadia Alexis (What Endures) will present photographs from her series, What Endures, which she deems "a form of homage to the departed and the living."
For more information on the exhibition and virtual programs, visit onprotestandmourning.digital, The Caribbean Cultural Center African Diaspora Institute (CCCADI), is an art, culture, education, and media organization that advances cultural equity, racial and social justice for African descendant communities.
CCCADI's programs serve children/youth, families, young professionals, elders, local and international artists, and practitioners of African-based spiritual traditions.
Through their, work CCCADI offers a collective space where African descendants honor the contributions of the global African Diaspora through exhibitions, performances, conferences, educational programs and international exchanges: www.cccadi.org
CCCADI is most grateful for the support it has received from the following: Foundations: Altman Foundation, American Express Foundation, The Andrew W. Mellon Foundation, Booth Ferris Foundation, Ford Foundation, Hispanic Federation, Howard Gilman Foundation, The Jacques Louis Vidal Charitable Fund, the Mosaic Network and Fund in the New York Community Trust, New York Community Trust, The Pinkerton Foundation, Rockefeller Brothers Fund, Shelley & Donald Rubin Foundation, Starry Night Fund Corporations: BronxCare Health System, Consolidated Edison, The Durst Organization, United Health Care, WarnerMedia LLC;  Public: Harlem Community Development Corporation, Manhattan Borough President Gale Brewer, National Endowment for the Arts, The New York City Department of Cultural Affairs, New York City Council Member Diana Ayala, New York City Council Member Laurie Cumbo, New York City Council Member Vanessa L. Gibson, New York City Council Member Bill Perkins, New York City Council Speaker Corey Johnson, New York City Economic Development Corporation, New York State Council on the Arts, New York State.
Photo credit: Source.
---