---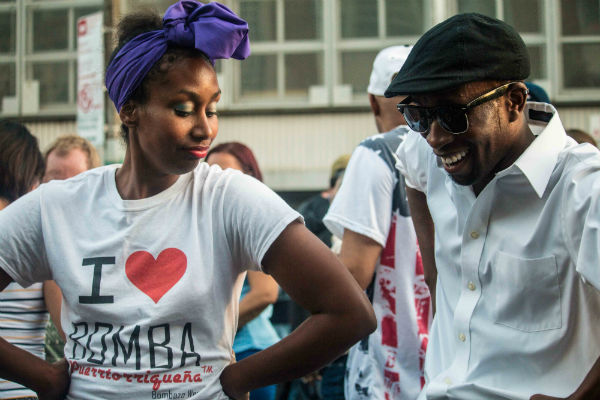 At the height of gentrification and in the midst of a political environment that threatens the very people and fabric that made East Harlem an epicenter of vibrant culture.
The Caribbean Cultural Center African Diaspora Institute (CCCADI) ushers in a new era with the announcement of its new director–Melody Capote, and a new festival–Descarga en el Barrio.These two actions come in direct response to the current issues facing both the city and the country. The Festival will take place from July 27th to the 29th on East 109th Street Between 2nd Avenue and 3rd Avenue.
Spanish for "Release," Descarga, is inspired by the musical freestyling sessions and the spiritual and emotional release many people find in music. The three-day food, culture, and musical extravaganza will take the place of El Festival de Santiago Apostol, popularly known as the Loiza Festival, which is being retired this year after 50 years of celebrating the connection between Afro-Puerto Ricans and New York. During its decades long history, the Loiza Festival featured exemplary performances that showcased the rich Afro Puerto Rican culture of El Barrio. In recent years, it celebrated the major accomplishment of renaming 105th Street and Lexington Avenue in honor of both the festival and one of its founding members–Aida Pérez.
The Descarga Festival will uphold the legacy left behind by the Loiza Festival while showcasing the powerful synergies that arise when the people of Caribbean, Latinx, and African descent–already connected through a shared history of colonialism and the Transatlantic slave trade–come together in one neighborhood.
"We felt it was important to create the Descarga Festival because we see daily how changes in the community ignore and erase the history and culture of our people. As we say goodbye to the Loiza Festival, there is nothing that lives in East Harlem that remains authentically ours, that is grounded in the community. With Descarga, we bring an event that looks like our community, reflects on our experiences and culture; it highlights our contributions, and in a really celebratory way, really looks to the important contributions we've made to this city, and particularly to that part of the city, through the music and dance that is Africa and its diaspora," shared Melody Capote the new executive director of the Caribbean Cultural Center African Diaspora Institute.
The first edition of Descarga will also offer a platform to celebrate the new appointment of Melody Capote as new executive director of the 40 year-old organization, a pioneer in the use of arts and culture as tools of social justice. Capote joined CCCADI as deputy director in 1984 and has been central to the development, sustainability and growth of the organization. As a native New Yorker, born and raised in East Harlem, Melody combines significant institutional experience with a deep knowledge of and commitment to her community.
Her inauguration as director will be celebrated to the rhythms of an inter-generational lineup of musical talent rooted in East Harlem's community. These include Bombazo Dance Company, Luis Blasini & Iroko, Jose Mangual and Son Boricua, Mr. Teardrop, DJ Brian, DJ Hilton, DJ Bembona, DJ Sunny Cheeba (Uptown Vinyl Supreme), DJ Broadway, Matthew Gonzalez & Kinto Zonó, Nina Rodriguez y su Banda, and Johnny "Dandy" Rodriguez and his Dream Team. A highlight of the event will be the host of old school (vinyl) and new school DJ's bringing the vibes from across the Afro-Caribbean diaspora and beyond, including Salsa, Bachata, Merengue, Reggaeton, Cumbia, Afrobeat, in a kind of DJ battle across generations.
Ultimately, festival goers will be treated to an exciting and liberating musical and cultural experience that stands as a testament of the resilience of an entire neighborhood, an entire people. Admission is FREE.
Visit CCCADI in their landmark facility at 120 E. 125th Street in East Harlem and online at www.cccadi.org.
---