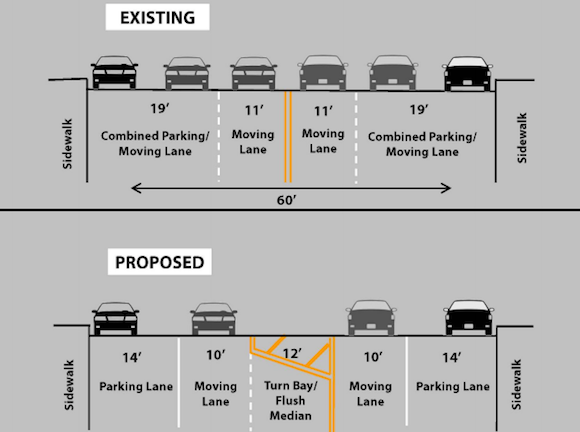 Streetblog reports that after nine months of foot-dragging, CB 10 is on track to support a traffic calming plan requested by community residents. Image: DOTWith new, clear marching orders from chair Henrietta Lyle after nine months of stalled deliberations, Community Board 10′s transportation committee voted unanimously last night to support a road diet plan [PDF] for a speeding-plagued stretch of Morningside Avenue. Pending expected support from the full board next month, DOT is scheduled to implement the safer street design in July.
Previously, the board's transportation committee, which has been sitting on the plan since last September, had refused to support anything that included a reduction in the number of car lanes, because some members opposed other road diets on Mount Morris Park West and Adam Clayton Powell Jr. Boulevard. The local residents who had requested the safety fixes gathered 1,000 petition signatures and the backing of neighborhood schools, churches, and community groups, and last night they finally had a breakthrough at the committee.
Board member Daniel Land Parcerisas introduced a resolution that expressed concern about road diets while supporting the plan for Morningside Avenue. "It's really about time. We've dragged our feet way too long on this issue," he said. Despite his plea, the committee's discussions took a familiar turn as board members opposed to the road diet suggested non-starters like speed humps instead and raised questions that had been addressed months ago.
Frustration mounted among the plan's supporters. "If you don't pass this plan, you're doing nothing," said Jonathon Kahn, a steering committee member of the North Star Neighborhood Association, which requested safety fixes from the city. "DOT will not put in speed bumps across a four-lane road. So for anyone to continue to ask for something that DOT will not do and cannot do, is to do nothing."
Soon afterwards, Lyle walked in and seated herself. "We really need this to pass tonight," she told the committee. "The community wants this. We may not want this, but we are going to support the community."
A short time later, the committee unanimously passed the resolution in a 7-0 vote. It now heads to the full board on June 4, the final meeting before its summer break. Lyle said last night she was confident that the full board would support the committee's recommendation.
Despite securing support for the plan last year from West Harlem elected officials and CB 9, which also includes Morningside Avenue, DOT said in January that it would prepare a new plan that does not include lane reductions. "They are still working on an alternative plan," said Karen Horry, acting chair of the committee. "We have been waiting on DOT to supply us with that information, and it just gets delayed."
Lyle said that the board would be open to additional Morningside Avenue proposals from DOT, but that the resolution advanced last night gives the city a green light to move forward on implementing the road diet. DOT confirmed with Streetsblog today that, pending support from the full board, the agency intends to install the road diet in July
Related Articles
---