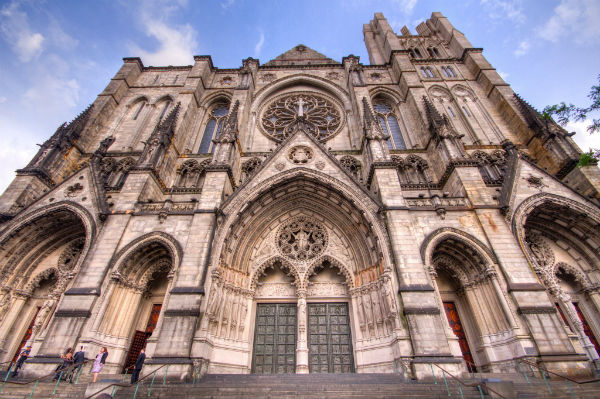 The Cathedral of St. John the Divine partners with the Hetrick-Martin Institute to host a panel of young leaders and activists in a conversation on LGBTQ youth homelessness and housing insecurity.
Following a brief lunch and networking session from 12 p.m. to 1 p.m., the panelists will tell their own stories of living and working within the LGBTQ housing-insecure community, followed by a moderated Q&A session with Lazara Paz-Gonzalez, Assistant Director of Health & Wellness at The Hetrick–Martin Institute.
After the Q&A session, the participants will be broken up into discussion groups to reflect on their own experiences, sketch out the needs of their communities, and form plans for building stronger support systems for housing-insecure youth. Following the breakout groups, the participants will re-convene to further discuss and strategize. 
Concluding the evening will be a special Pride Evensong service from 4 p.m. to 5 p.m., featuring works by LGBTQ composers Meredith Monk, Lee Hoiby, David Hurd, and Leonard Bernstein, sung by the Cathedral Choir, and conducted by Kent Tritle, Director of Cathedral Music. The service will be officiated by The Venerable William C. Parnell, Archdeacon of the Diocese of New York, and includes a sermon by guest preacher The Reverend Winnie Varghese, Rector of St. Mark's Church-in-the-Bowery.
Sunday, May 31, 2015:
12 p.m. – 3:30 p.m. – Panel Discussion
4 p.m. – 5 p.m. – Pride Evensong
The Cathedral of St. John the Divine, 1047 Amsterdam Avenue at 112th Street, Harlem, New York.
For RSVPs and inquiries regarding the panel discussion, please e-mail liturgy@stjohndivine.org or call (212) 316-7531.
Related Articles
---