By Zane Castillo
Harlem has always been known for its diverse and lively nightlife scene. From the jazz shows of the Cotton Club in the 1920s to the memorable soul performances at the Apollo Theater in the 1960s, Harlem's nightlife is something you don't want to miss.
Over the years, many clubs and venues have popped out throughout the area, but there have been a few small venues that are still alive and kicking. These places have continued to draw in Harlemites and visitors on a daily basis and have proven to be some of the best nightlife spots in the area.
If you are trying to figure out what place to check out, take a look at this list.
67 Orange
67 Orange is one of the best places uptown to get drinks and chill out. The bar specializes in some of the best cocktails you will find in the city, while providing a cozy, relaxed atmosphere for customers.
67 Orange, 2082 Frederick Douglass Blvd, New York, New York, 10026, www.67orangestreet.com/
At the Wallace
At the Wallace is a fun dive bar that features cheap drinks and foods. The bar also has arcade games and shuffleboard that makes it a perfect spot to enjoy with friends or for a date night.

At the Wallace, 3612 Broadway, New York, New York, 10031, www.atthewallace.com/
A Touch of Dee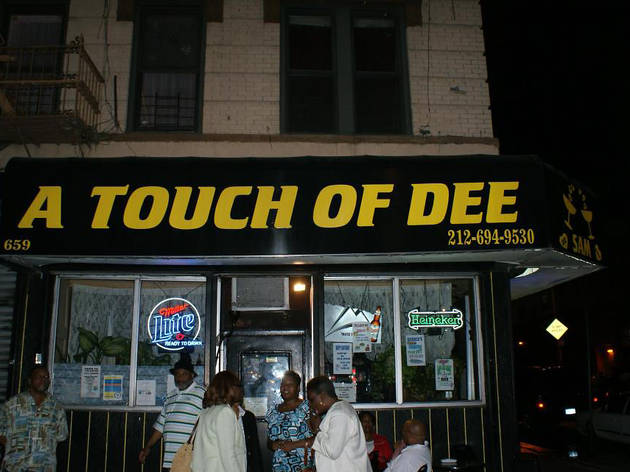 For a more neighborhood and old school vibe, A Touch of Dee is one of the best spots to check out in Harlem. This spot usually caters to an older crowd that want to enjoy a drink and vibe out to the wonderful songs coming out of the jukebox. So, if you are looking for a place that has that mom and pop feel, this is the place for you.
A Touch of Dee, 657 Malcolm X Blvd, New York, New York, 10037, www.facebook.com/A-Touch-Of-Dee-138744152812123/
Bill's Place
If you are in the mood for jazz with a speakeasy vibe, Bill's Place is worth checking out. This venue has a small and intimate feel, as you can watch the musicians up close and personal.
Bill's Place, 148 West 133rd Street, New York, New York, 10030, www.billsplaceharlem.com/
Uptown Bourbon
This great neighborhood hangout features great drinks and a record player that spins classic tunes all night. If you want to chill out with some friends and listen to old school greats this is the place for you.
Uptown Bourbon, 3631 Broadway, New York, New York, 10031, www.facebook.com/UptownBourbon/
Have any places you recommend?
Read more Zane Castillo articles here.
Related Articles
---
VIDEO
---
"We re-imagine, recreate, and redeem cultural omissions and misrepresentations of Blackness, for the culture. ...." This post is made in partnership with British Pathé.