---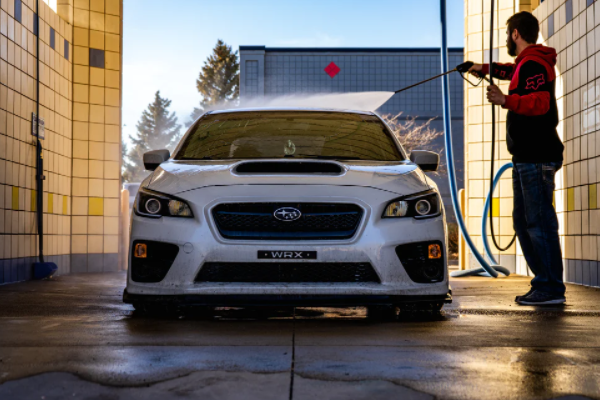 Cleaning a car's exteriors may seem easy at first sight, but it can leave lasting damage on your vehicle if not done right.
For instance, did you know that any dried residue left on the car from your recent detailing endeavor is much harder to clean than regular dust or debris? There is a good reason why car cleaning is better off in the hands of pros. But there is a whole different level of joy in doing it yourself! For all you DIY car detailing enthusiasts out there, here are five select car exterior cleaning tips from the pros themselves.
1. Get Rid of those Aggravating Streaks – The Easy Way
While cleaning your vehicle's windows, have you ever come to the point when you simply can't tell whether the streaks are on the outside or within? That's probably because you have been cleaning the inside of the window in the same way as the exterior pane. Here's a simple but effective tip: rub the outer pane horizontally and the inner one vertically. That way, you can easily determine where the streak lies based on the angle that it makes to the glass. No need to specifically check either side of the pane every time a streak rears its ugly head!
 2. Do Not Wash your Car in Direct Sunlight
You know for a fact that you need to clean the exteriors with a dry cloth after a wet wash. Never let your car dry off on its own! So here's something that makes perfect logical sense. The heat from the rays of the sun makes the water droplets after your wet wash of the car evaporate faster. Thus, by the time that you finish dry scrubbing the hood, the car's boot would have dried up on its own, leaving those annoying stains that are harder to clean. Hence, ensure that you detail your vehicle in the garage itself or in a shaded area.
 3. The Ideal Way to Remove Water Repellents
If you use water repellents on your car, then you are already a dab hand at detailing. If you don't, then it is high time that you started using those. Water repellents are a great help in moderate to extreme rainy or snowy conditions for they aid your windshield wipers to clean the pane better. Applying repellents like Rain-X is easy, but the tricky part is to remove the first coat post expiry to add a new one. Treat the windshield with glass polish to remove all the traces and residue of Rain-X after thoroughly cleaning and rinsing the pane. Only then should you add a new coat. It's important to understand how to use these products the correct way to get the best results. 
 4. A Good Quality Cloth Greatly Simplifies the Task
We often tend to use a worn-out rag for car detailing. Heck, we only need to remove the dirt, so why not just use an old, disposable piece of cloth for the purpose? The thing is, an old rag already has an ample amount of dirt lodged in its fibers. No matter how hard you wash it, there's bound to be some microscopic debris left on its surface. That very debris causes streaks to occur on the exteriors of your car, eventually staining it beyond repair. Hence, it is better to use a brand new microfiber cloth with minimal friction which results in more effective cleaning of the exteriors.
5. Pro Wax Application and Removal Tips
You might know that it is best to use a power buffer to apply wax and polish. But do you tend to remove the coat with the buffer as well? Don't! A power buffer should be used only for wax application. For removing the wax coat, you should ideally use a fresh, soft, dry piece of cloth. That is because the buffer has a tendency to stain and swirl an uncoated slab of paintwork, eventually leading to an irregular finish of the car exteriors. Thus, you will end up cleaning the surfaces with a fresh piece of cloth anyway; save time!
A bonus tip: while cleaning the car windows either in a vertical or horizontal fashion, always start from the top edge. That is the place where most of the dirt and debris gets collected. Pull the pane down a notch and carefully rinse the top. The bottom edge can be easily cleaned later. And as you might have guessed by now, the secret to efficiently detailing the exterior of your car lies in the type of cloth you use. Keep a few good microfiber cloth pieces handy, and you will never need to worry about unnecessary streaks and stains again!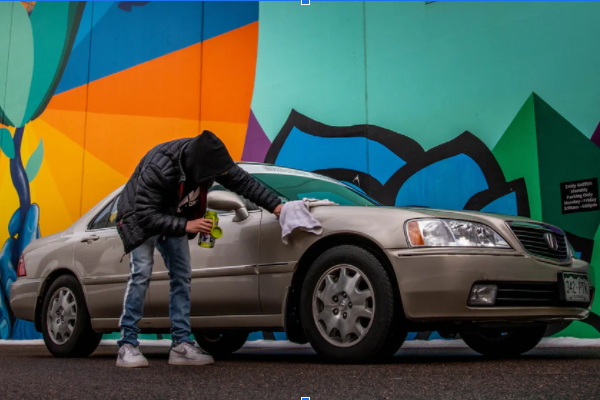 If you use the tips provided here, you'll be a pro at cleaning the exterior of your car in no time. Remember that consistency is key so that there isn't buildup occurring and making the process more difficult for you. Use the right tools and cleaning products and your car will look, feel and smell as good as new every time.
---