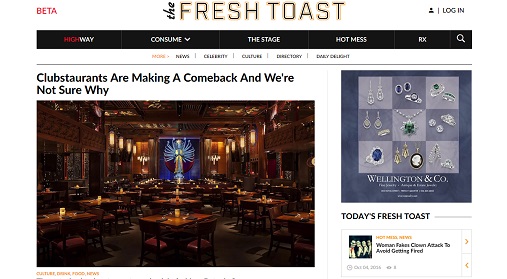 Cannabis culture continues to go mainstream: Lifestyle site The Fresh Toast debuts Wednesday with content geared to the growing number of marijuana users who don't identify as outlaws or stoners.
The company has been publishing a beta version out of its editorial headquarters in the Gowanus section of Brooklyn for the past few weeks. Subject matter ranges from "Will cannabis make me fat?" to cute animal videos and posts on Drake, Stephen Colbert, "novelty hamburgers" and how to safely consume cannabis-infused edibles.
The site's launch is timed to take advantage of changes in the public's attitude toward the drug that may accelerate come November. New York legalized medical marijuana in 2014. Five states, including California and Massachusetts, have measures on the ballot that would legalize recreational use and another four states will be voting on medical marijuana programs. A total of 25 states plus the District of Columbia have legalized cannabis in one form or another.
Entrepreneurs and investors have been rushing to create products targeting a middle-of-the-road crowd.
"About a year ago I realized the cannabis industry was going to sweep the nation," said Fresh Toast founder and publisher JJ McKay, who is running the site's business operations out of Seattle, where medical and recreational use of marijuana is legal. "And all the major [media] platforms for cannabis were for the stoner and the aficionado."
The company employs eight people at a co-working space in Gowanus, five in Seattle and one in Austin, Texas. Its editorial staff is based in Brooklyn for access to talent and major cultural trends, McKay said.
Though New York state has possibly the most restrictive medical marijuana law in the nation, he noted that the city has plenty of cannabis users. (Indeed, it has probably the largest marijuana black market in the country.)
The women's lifestyle site Refinery29 was one inspiration for The Fresh Toast's approach, as was Wine Spectator. And in contrast to High Times, the bible of the pot industry that has been publishing for four decades, the site has no counter-cultural edge.
"Fresh Toast is cannabis for everybody," said editor-in-chief Kelly Barbieri, who spent two years as digital director of Trans-High Corp., the parent company of High Times.
In an unusual move for a new website these days, The Fresh Toast is aiming at two different age groups: 22- to 34-year old first timers, and "returning customers," over the age of 44, who are getting reintroduced to pot. "There's a small gap in there with people who have kids at home," McKay said.
A former public relations executive and media consultant, McKay has raised $2 million from private backers to launch the site, and says it will have multiple revenue streams. They include a directory of dispensaries that will pay to be listed, consumer data that can be sold to cannabis marketers and advertising. McKay sees energy drinks, snacks, wine, beer and spirits, apparel and video games as among the categories suited to the site.
---
---
Via source. Photo credit: The Fresh Toast site screen shot.
Related Articles