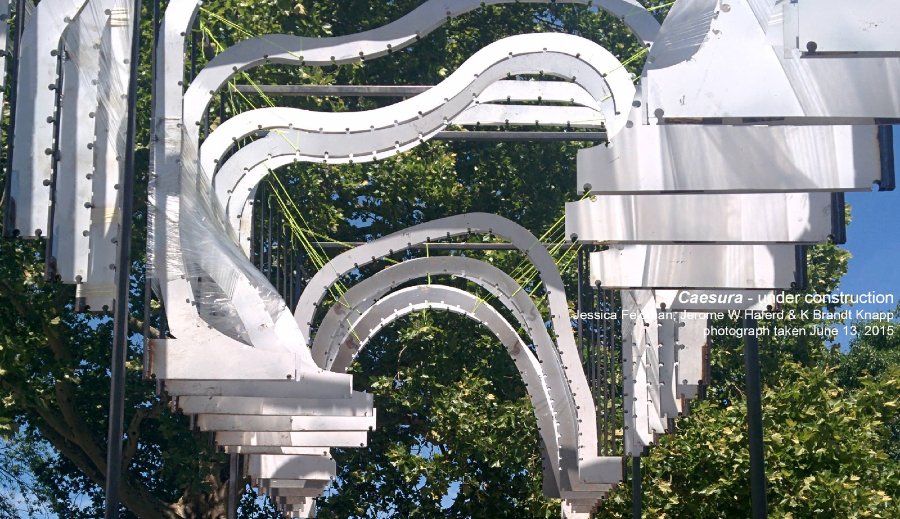 The first public art installation on the Acropolis in Marcus Garvey Park will open this weekend. Everyone is invited to come out and meet the collaborative team of artists.
Architects Brandt Knapp and Jerome Haferd collaborated with sound artist Jessica Feldman to create "Caesura: A Forum" an interactive architectural sculpture and sound installation. All three are Harlem residents that met up on the Acropolis one day last fall to discuss the idea of creating a public art installation. On that day Connie Lee who is now president of the Marcus Garvey Park Alliance happened to be up there as well telling the story of the Harlem Fire Watchtower. Over hearing the story of the fire watchtower the artists introduced themselves and the rest of the story is about to unfold with the opening preview of Caesura A Forum.
Preview and Opening Reception for "Caesura: A Forum"

Saturday June 20th
3pm – 6 pm

On the Acropolis in Marcus Garvey Park
To access the Acropolis you can use the stairs near 120th Street and Fifth Avenue, the stairs on the Madison avenue side of the park near the basketball courts or the stairs and walkway behind the amphitheater.  All paths and staircases leading up to the Acropolis are now open. mgpalliance.org
Related Articles
---
VIDEO
---
"Dr. Harry Delany is a renowned Harlem born and raised surgeon, the son of the great jurist and civil rights leader, Hubert Delany...." This monthly post is made in partnership with Harlem Cultural Archives.