---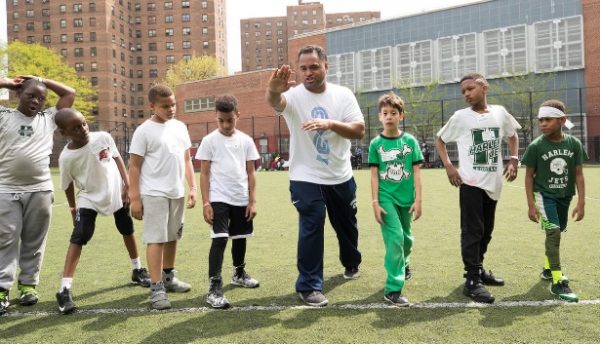 The Harlem Jets got another dose of BYU football. This past week Kalani Sitake tapped into one of LaVell Edwards' contacts when the late football coaching legend served an LDS Church mission with his wife Patti in New York City after his retirement in 2000.
Sitake, under the banner of his charity, the More to Life Foundation, took a party of more than 50 players, coaches and wives to New York City. They left on a redeye flight last Wednesday and returned on Sunday. In between, they put on clinics, staged youth football drills in Harlem and spoke to several assemblies at schools in Brooklyn.
The Sitake charity is in its infancy. People say longtime former Edwards aide Duane Busby has helped in day-to-day operations to get it launched. Sitake visited with Edwards before his death about creating the foundation.
The effort, it seems, has taken on the persona of Sitake, an effort with a personal touch, a sincere and simple approach that's intended to make a difference.
In between events, the group toured the Big Apple and took in New York City sites from Broadway to the Battery that overlooks the Statue of Liberty and Staten Island.
"It was awesome to see so many BYU fans in New York City," said running backs coach Reno Mahe. "They were everywhere. People were coming up to us in the streets, at stoplights, in subways and restaurants. Everywhere we went, we heard people yell, 'Go, Cougars!'
"The Mormon Mafia is everywhere," Mahe said, laughing.
In Harlem, the BYU group met football players as young as 5. The Harlem Jets have been around since 2005. It was a time during which Edwards visited Harlem and made friendships in the community. Back in 2010, a 10-and-under Jets team won the American Youth Football National Championship in Orlando, Florida. The youth program begins each year in March and concludes in December.
After a visit to Brooklyn schools 113 and 383, one of the principals, praising the visit of the BYU contingent, called it a "life-changing" event for students.
When a big storm hits, it takes a coordinated effort with all hands on deck to clear the roads. Here's how you can do your part.
Some of the BYU players making this foundation trip were Akile Davis, Corbin Kaufusi, Tanner Mangum, Matt Hadley, Tevita Mo'unga, Micah Simon, Fred and Troy Warner, Keyan Norman and Dayan Ghanwoloku.
Offensive coordinator Ty Detmer called the experience worthwhile, a chance to share experiences and gain friendships. He said the practice field used by the Harlem Jets was fenced in with a high-rise public housing project nearby.
"I don't know if any of the kids knew much about BYU football, but their coaches and teachers explained who we were and hopefully they'll remember experiences we had. I think it's important to see BYU athletes provide service like this."
"What I talked about," said Kaufusi of his visit to an elementary school, "was how to keep school and football in balance and being a successful person beyond sports. It was awesome. It kind of put everything into perspective and that made it worthwhile."
Mahe said players shared thoughts on bullying, making decisions, facing choices, the importance of friendships and associations and the value of hard work. "It would be great to come back and see what, if anything, Kalani Sitake's foundation may have played in a paradigm shift in their lives."
Another Sitake foundation event could be held later this year in Los Angeles. Foundation golf tournaments are planned May 12 at Thanksgiving Point and May 30 in Dana Point, California.
While the BYU group handed out lunch boxes, gear and played catch while supervising drills, they got a chance to share their experiences in life.
Mahe said he believed the coaches and players got back more than they gave in Harlem and Brooklyn.
Related Articles
---