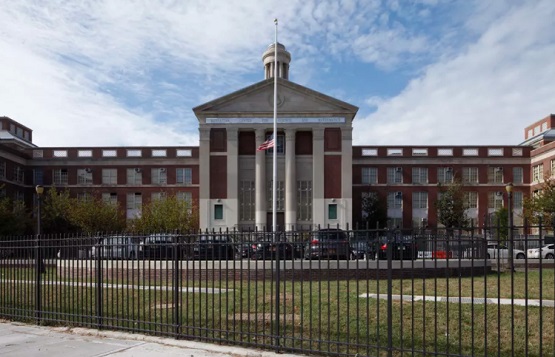 NY Curbed reports that three East Harlem buildings with strong neighborhood ties were swiftly landmarked on Tuesday morning. The city's Landmarks Preservation Commission voted unanimously to designate the Benjamin Franklin High School (now known as the Manhattan Center for Science and Mathematics), the former Richard Webber Harlem Packing House, and the former Public School 109.
"We are proud to designate these three buildings in East Harlem as individual landmarks for their architectural and cultural significance," said LPC Chair Meenakshi Srinivasan, in a statement. "They embody East Harlem's unique development history and recognize the civic institutions and businesses that helped shape the lives of the neighborhood's immigrant groups."
The Benjamin Franklin High School, located at 260 Pleasant Avenue, was the neighborhood's first high school, and was established by noted educator Leonard Covello. The brick and limestone Georgian Revival building was the focal point of social and political engagement in East Harlem during the mid-20th century; today it is home to two of the city's top public schools.
The Richard Webber Packing House, at East 119th Street, is a reminder of the neighborhood's commercial and industrial past. The building functioned as a slaughterhouse, retail space, and meat market from the turn of the century to about 1928.
PS 109, now known as El Barrio's Art Space PS109, was built in 1899 and is located on East 99th Street. The H-shaped limestone and brick building was designed by CBJ Synder and hosted 2,000 students across its five floors while it still functioned as a school. The building was converted into affordable housing for artists in 2015.
---
Become a Harlem insider - Sign-Up for our Newsletter!
---
Related Articles
---
VIDEO
---
"Dr. Harry Delany is a renowned Harlem born and raised surgeon, the son of the great jurist and civil rights leader, Hubert Delany...." This monthly post is made in partnership with Harlem Cultural Archives.