---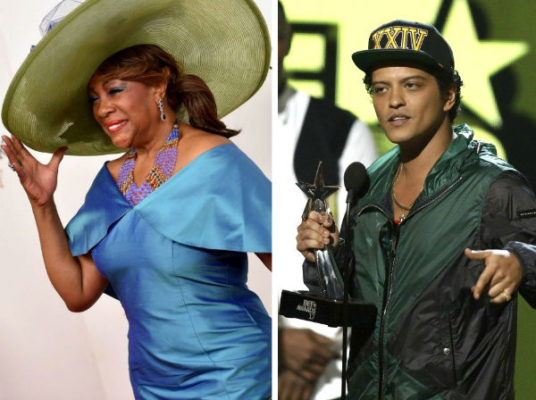 NY Daily News reports that it was an Apollo mission to Mars. "Marry You" singer Bruno Mars and former Supreme Mary Wilson both performed at the Apollo Theater over the weekend, but were too busy to meet and trade war stories.
After the pair unsuccessfully tried to set up a meeting "through intermediaries," Wilson, who took the stage on Saturday, sent an autographed copy of her memoir "Dreamgirl: My Life as a Supreme" to Mars, who we're told was glad to get it.
"They were literally a wall away but he was in extremely intense rehearsals. Because of the really tight schedules, he couldn't break away and see her," according to one backstage source.
Mars' busy schedule may have been in part because he's been shooting a TV special at the historic uptown theater, Us Weekly reported.
The special will reportedly be a mix of performance footage and interviews with the 31-year-old five-time Grammy winner.
Mars, who starts his "24K" tour in North Carolina on Thursday, released an Instagram photo of himself performing on top of the Apollo's marquee over the weekend. The tour will find its way back to New York in October when Mars plays at the Barclays Center.
While Wilson didn't get to meet Bruno over the weekend, she told friends backstage, including Harlem EatUp! founder Herb Karlitz, that she had a great time being in the spotlight to sing solo on Supremes hits, including "Baby Love" and ""You Can't Hurry Love."
"Mary told people she was happy to be center stage singing all of the songs, rather than the 'Ooh, baby baby' parts in the background," we're told.
And it was not just her ageless voice that the 73-year-old singer brought to the Apollo for her show. The shimmering gowns she wore onstage brought back memories for Supremes fans too.
"She said the dresses were from the Supremes (days) and she travels with them," said one fan who got to meet Wilson.
Related Articles
---