---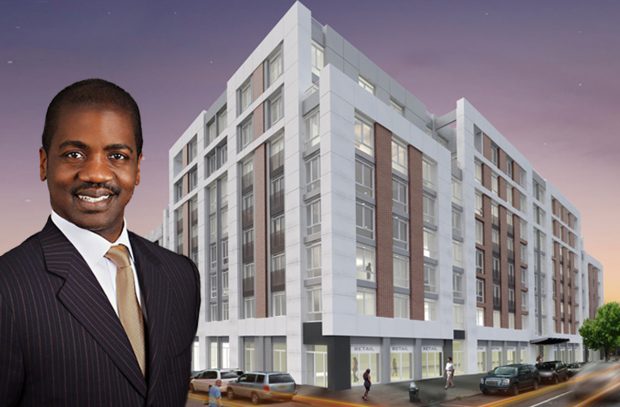 UPDATED: Mar. 6, 9:37 a.m.: For-profit affordable housing developer BRP Companies plans to sell condominiums instead of rent below-market apartments at its Harlem development called "the Rennie," according to an offering plan filed with the New York Attorney General's office.
The developer previously planned an 80 percent market rate, 20 percent affordable rental building with 134 units. The new offering plan, however, calls for all of those apartments to be sold for a total asking price of $104 million, or $780,000 per apartment on average reports The Real Deal.
BRP acquired the old Renaissance Ballroom and Casino building at 2341 Adam Clayton Powell Jr. Boulevard in 2014, paying Abyssinian Development $15 million. "The Rennie" takes its name from now-demolished building, as well as from the Harlem basketball team, the Rens, which played home games there between 1923 and 1949.
Santander Bank lent BRP $53.2 million for construction of a new building at the site and most exterior construction on the Rennie finished sometime last year. BRP recently completed another condo nearby at 2225 Adam Clayton Powell Boulevard that included "affordable" units priced between $400,000 and $500,000, according to the Commercial Observer.
In a statement to The Real Deal, company co-founder Geoff Flournoy confirmed the change to condos. "We recognized the limited supply of condos in the Central Harlem market and we're excited to continue working with the community to expand neighborhood offerings," he said. The company also said that 20 percent of the Rennie would be set aside for "affordable" condos priced between $300,000 and $347,000
BRP is especially active in Jamaica, Queens, where it acquired a development site from Chris Xu in December, paying $55 million. It's also partnering with retail billionaire Jeff Sutton to develop a 300-unit complex In Jamaica at 90-02 168th Street.
Meredith Marshall, co-founder of BRP, sits on the board of directors of the New York State Association for Affordable Housing, a trade and lobbying group with a mostly for-profit developer membership.
Correction: The initial version of this story misnamed the New York State Association for Affordable Housing.
Clarification: This story was updated to include a reference to below-market condos BRP Companies is planning at The Rennie.
Related Articles
---