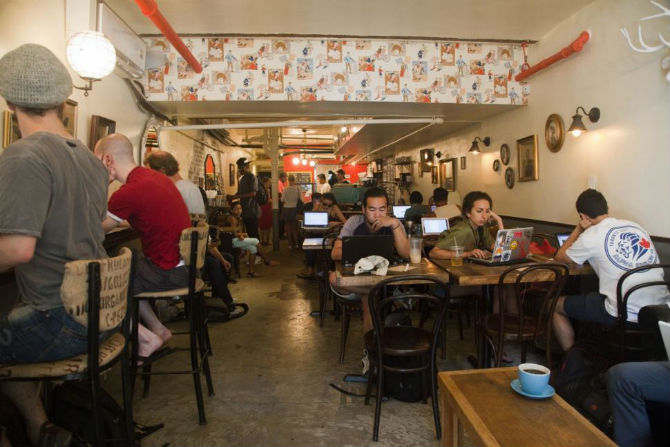 Now, it's the brokers causing the gentrification of Harlem.
A group of Upper Manhattan real estate agents sick of peddling apartments in buildings with abandoned or substandard retail spaces on the ground floors has opened a string of coffee shops in a bid to spruce up the neighborhood — and hike prices for the units above.
Call it coffeehouse gentrification — but the java joints have transformed long-abandoned storefronts that had little hope of attracting mainstream tenants. And they're making the units upstairs more attractive to renters and buyers in return.
In exchange, the landlords offer the brokers, who work for residential firm Bohemia Realty Group, significant concessions on their starting rents for the spaces and help provide the capital to transform these vacant shops into functioning eateries.
"When we moved in, the space looked like hell," with sagging floorboards and bad ventilation, said Andrew Ding, a broker who co-owns the Chipped Cup on W. 148th St.
Now the renovated eatery is jammed with trendy laptop-toting patrons even on weekday afternoons, despite the $4 lattes. Ding also hosts regular open mic nights, improv evenings and poetry slams.
Bohemia agents are now the proprietors of four coffee places in Harlem, and are planning more.
But not everyone is on board with the retail revolution, particularly when it comes at such a high cost.
It also sends a really bad signal to people in the neighborhood who have been there for years that services are coming into their communities that they can't afford.
"Four dollars for a latte is exorbitant in any part of the city, particularly because we're still in a really difficult economic time," said local activist Rev. Nicholas Richards of the Abyssinian Baptist Church in Central Harlem. "It also sends a really bad signal to people in the neighborhood who have been there for years that services are coming into their communities that they can't afford."
But Ding disagrees, suggesting that gentrification is inevitable in a desirable neighborhood that has been on the cusp of change for generations — yet consistently fails to seize it.
"There's a natural evolution going on here and people have demonized us for being responsible for it," he said. "Some people think our prices are ridiculous for the neighborhood but what they're complaining about is actually far bigger than us. I don't see what's so wrong with bringing the kind of quality product that you'd get downtown to this neighborhood."
It's certainly not the first time developers have jumpstarted gentrification. David Walentas created today's DUMBO by doling out low — and sometimes no — rent deals to shops and cultural groups willing to move to a then-abandoned warehouse district. The performance venue St. Ann's Warehouse paid nothing for its Water St. home for nine years.
---
---
Walentas believed that hip venues would attracted cool young people — and their wallets — and history proved him right. DUMBO is now one of the most expensive neighborhoods in the city.
Ding thinks Harlem is next — if it abandons decades of "mediocrity."
"All the businesses up here (were) banking on the fact that there are no other options for people," he said.
The roll-out by Bohemia agents comes at a time of enormous turnover of Upper Manhattan buildings, from 110th St. to 150th St., as real estate newcomers buy out longtime landlords and bring a more creative approach to the retail space.
"We've even rented retail spaces for less per square foot to get a more fashionable tenant because a great tenant works like an amenity for the residents of the building," said Adam Mermerlstein, who's been buying up Harlem rental buildings en masse for a few years. "You don't normally get amenities in a walk-up."
The new owners are more optimistic than their predecessors about the future of Harlem retail, which has been on an upswing along key shopping corridors such as 125th St., which even has a Whole Foods. But from 130th St. to 150th St., rents remain about half of what they are on the strip long known as the Main Street of Black America.
Where old-time landlords didn't bother investing in their retail spaces, the new guard of landlords sees the potential for the success of 125th St. to spread north — it just needs a little nudge.
The new landlords moving into the neighborhood are "more in touch" with the demographic changes uptown, said Ding, whose cafe sits in a Census tract that is 300% whiter and 21% wealthier than it was just 10 years ago. "The older landlords weren't willing to invest much money. It didn't make sense to them."
Ding had listed the retail space now occupied by the Chipped Cup for lease on behalf of the landlord in 2012 — but no one was biting.
"No one cared," he said. "It was probably going to sit vacant for years."
But Ding and his business partner, who initially paid just $1,100 a month for the tiny space, have already recouped their personal $90,000 investment.
"It was like jumping off a cliff and then learning to fly," he said, "but it's paid for itself since opening day and we've recouped all of our investment."
Other Bohemia agents have been equally successful with their stores.
Jeff Green, the first of the agents to open a café in 2012, recently opened his second, at 142 Edgecombe Ave. and 142nd St. His Manhattanville Coffee is on the ground floor of an eight-unit condo that struggled to find a tenant. The developer was worried that the deserted ground floor would be a turn-off for prospective buyers, so he rented it to Green.
Now, it's bustling with locals all day long and the units, which were asking around $500,000 a pop, have sold out.
Having a cute hangout on the ground floor of the condo made the units infinitely more saleable.
"I definitely didn't have to negotiate as much," Green said. "Once the shop was open, the final two or three units just sold themselves" (source).
Related Articles