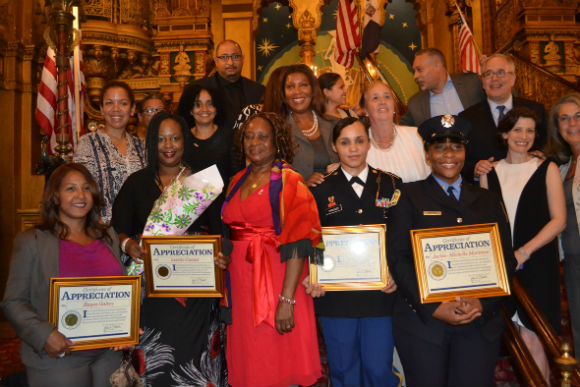 Tuesday evening, Manhattan Borough President Gale A. Brewer and the Dominican Day Parade Committee held a launch party in Washington Heights for the upcoming Dominican Day Parade. The event was cosponsored by State Senator Adriano Espaillat, Assembly member Guillermo Linares, and Councilmember Ydanis Rodriguez.
"The Dominican community is an essential part of today's Manhattan and New York City, and I'll be proud to march up Sixth Avenue with my Dominican neighbors this Sunday," said Manhattan Borough President Gale A. Brewer. "New York's history is built on chapter upon chapter of immigration, with diverse communities from all over the world weaving their cultures into the fabric of the city. The Dominican community is a vibrant, vital piece of that tapestry today."
Brewer, parade organizers, and elected officials representing Manhattan's Dominican community also saluted Dominican New Yorkers in public service during the reception. Honorees included:
Lisette Caesar, founding principal of Mosaic Preparatory Academy (P.S. 375) in East Harlem.
Det. Raysa Galvez, New York City Police Department, Bronx District Attorney's Detective Squad.
Firefighter Jackie-Michelle Martinez, Engine 275, New York Fire Department and Vice President, United Women Firefighters.
Sgt. Lissette Vasquez, 369th Sustainment Brigade, New York Army National Guard.
The reception also featured a performance by Los Andulleros de Santiago USA, a Dominican dance and carnival performance group founded in 2012.
Photo credit: B.P. Brewer, elected officials, honorees, and members of the Dominican Day Parade Committee
Related Articles
---