---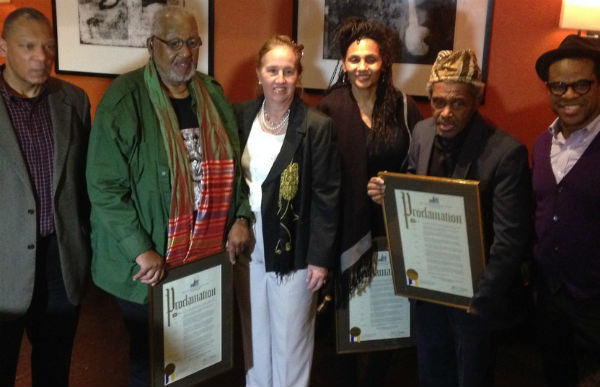 On Monday, Feb. 29, hundreds gathered at MIST Harlem for Manhattan Borough President Gale A. Brewer's Black History Month reception recognizing the work of three Harlem photographers: Shawn Walker, Ming Smith, and Kwame Braithwaite.
"Manhattan is a global center of the arts, and Harlem is a vital part of why that's true," said Manhattan Borough President Gale A. Brewer. "This Black History Month, it's my privilege to recognize some of Harlem's amazing photographers, who are chronicling the world around them."
A screening of "Through a Lens Darkly: Black Photographers and the Emergence of a People" followed the reception. The documentary is filmmaker Thomas Allen Harris' award-winning exploration of the role of photography in shaping the identity, aspirations, and social emergence of African Americans.
About the honorees:
Shawn Walker continues to shoot and exhibit around the globe more than fifty years after he joined with other photographers to establish the Kamoinge Workshop. He has exhibited in museums and cultural institutions throughout the world, including the Smithsonian, the Schomburg Center, the Brooklyn Museum, the Whitney Museum, the International Center of Photography, the Museum of Modern Art, the San Francisco Museum of Art, the Studio Museum in Harlem, and the Harvard University School of Art and Design.
Ming Smith is known for her informal, in-action portraits of black cultural figures, from Alvin Ailey to Nina Simone and a wide range of jazz musicians. She was an early member of the Kamoinge Workshop, an association of several generations of black photographers. Ming has traveled extensively, showing her viewers a cosmopolitan world filled with famous landmarks and extraordinary landscapes. People continue to be her most treasured subjects. This is most apparent in her series depicting African American life.
Kwame Brathwaite has been considered the ever-present "photo-documentarian" of the Black Arts & Culture movement, the "keeper of the images." He started as a jazz photographer after helping to form the African Jazz-Art Society and Studios (AJASS) along with his brother, the late activist Elombe Brath, and other young like-minded artists in 1956. AJASS combined art, music, fashion, poetry, theatre and political activism into what became the beginning of the Black Arts Movement of the 60s.
Photo credit: Shawn Walker (second from left), Borough President Brewer (center), Ming Smith (third from right), and Shawn Walker (second from right).
Related Articles
---