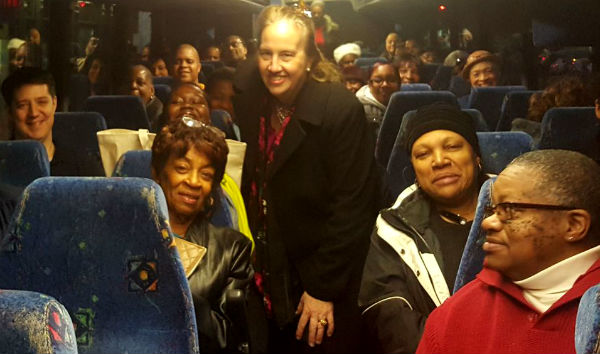 Manhattan Borough President Gale A. Brewer sponsored a bus to Albany today, helping dozens of Manhattan public housing residents and leaders participate in Public Housing Advocacy Day at the state capitol.
During the day trip, participants will meet with legislators to discuss NYCHA's pressing need for state funding.
"Cuts in federal and state aid have produced literal gaping holes in tenants' walls and ceilings. Renewed state funding will be a crucial part of getting NYCHA back on track — and I know that no one can speak to that better than NYCHA residents and tenant leaders themselves," said Manhattan Borough President Gale A. Brewer. "Our city, state, and federal governments have made a commitment to provide more than half a million New Yorkers clean, safe, affordable housing through NYCHA, and the city cannot make good on that commitment without help."
Brewer greeted and thanked participants traveling to Albany at the Harlem State Office Building this morning. Tenant association presidents and vice presidents from more than six public housing developments in Manhattan were part of the group traveling on the bus sponsored by Brewer.
The state's budget process is nearing its conclusion. The majorities in both houses of the legislature presented their "one-house" budget plans earlier this week, a first step toward the final negotiations. The budget deadline is April 1.
Related Articles
---