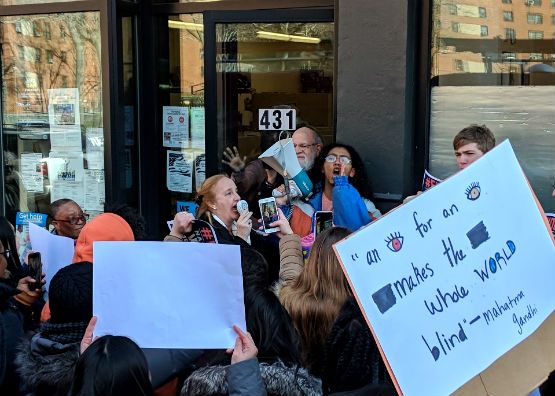 Manhattan Borough President Gale A. Brewer encouraged students from Harlem to Houston to participate in this coming Saturday's "March for Our Lives" demonstrations in Washington, DC and New York.
Brewer will be sponsoring a bus to Washington, DC for her Young Leaders of Manhattan youth council and other students seeking to participate.
"On gun violence nationally, adults have failed and students are leading," said Manhattan Borough President Gale A. Brewer. "Students' activism is reactivating the moral conscience of this nation. To students: stay loud, stay active, and keep it up!"
Last week, Brewer greeted hundreds of students from Columbia Secondary School for Math Science and Engineering who marched to her office and then to the Harlem State Office Building as part of the National Student Walkout Against Gun Violence. The Columbia Secondary students' protest, like many at schools around the city, was organized and led entirely by student leaders.
This coming Saturday, March 24, 2018, Brewer will join demonstrators in New York at the March for Our Lives event, which is scheduled to start near West 72nd Street and Central Park West at approximately 11:00 am. Brewer will greet students traveling on the Young Leaders of Manhattan bus to Washington, DC when it departs that morning, at approximately 5:45 am.
The Young Leaders of Manhattan bus is currently full but still accepting new registrants to a waitlist. Students under the age of 18 will need permission from a parent or guardian to travel to Washington, DC with the Young Leaders of Manhattan group.
To sign up for the waitlist, click here.
Related Articles