---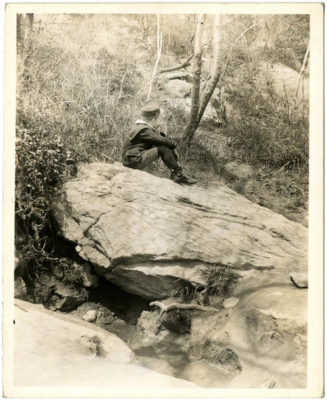 Unidentified boy is photographed by James Reuel Smith seated on a boulder above a spring at St. Nicholas Avenue and West 139th Street, Harlem, New York, May 5, 1899.
There were a community of wells and springs that ran throughout the uptown area, from Harlem to the Bronx and all connected to the historic "Indian Springs" of the Wecksquaesgeek Indians. Smith spent the years from 1897 to 1901 bicycling throughout the area documenting the transition from the early "Indian Springs," history to the Harlem farmland, to the industrial revolution of mass produced running water in Harlem homes – that dictated the closing and the end of the wells and springs open and accessible to the public.
Check out article on Harlem Wells and Springs articles here.
Via silver print photograph source.
Related Articles
---