---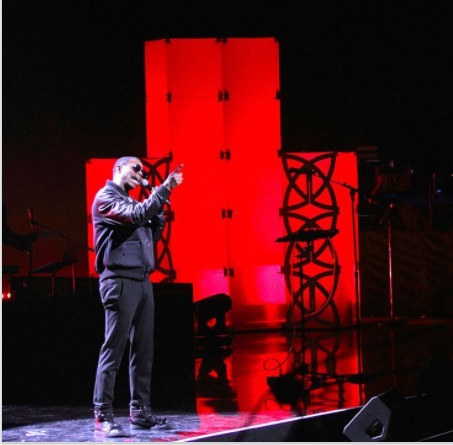 Bounce, the first-and-only over-the-air broadcast television network for African Americans, will honor Black History Month in February with a compelling programming tribute; highlights include:
The 2018 Bounce Trumpet Awards,the prestigious annual event celebrating African-American achievements and contributions premieres Sunday, February 11 at 9:00 p.m. ET hosted by actors Larenz Tate and Erica Ash. Ludacris, CeeLo Green, Cameo, Harlem's Doug E. Fresh, Xscape, Bow Wow, Keke Wyatt and more gather to perform and to honor the outstanding accomplishments of African Americans and those who have succeeded against great odds and inspired success in others. Video here.
A special installment of the Bounce newsmagazine show Ed Gordon called "Am I Black Enough?" which will examine the nuances of cultural identity within the Black community to define exactly what it means to "be Black." The award-winning journalist and series producer/host Gordon explores this interesting subject matter with influencers such as Samuel L. Jackson, Anthony Anderson, Wayne Brady, Yara Shahidi, Taye Diggs, Charlamagne Tha God, Misty Copeland, Boris Kodjoe and others. On Monday, February 12, 2018, "Am I Black Enough?" will be available for streaming exclusively on Brown Sugar, the new subscription-video-on-demand service featuring the biggest collection of the baddest African-American movies of all-time which also showcases Bounce original programming. The special will premiere on Bounce on Saturday, February 17, 2018. Video here.
A new original short-form series of vignettes called "Your Story Matters" spotlighting the unique and inspiring experiences of trailblazing African Americans, including legendary actress, philanthropist and Brown Sugar spokeswoman Pam Grier, Academy Award®-winning actor and community activist Lou Gossett, Jr. and NASA engineer and 2018 Bounce Trumpet Award Honoree Dr. Lonnie Johnson. Video here. 
Bounce will also feature a variety of relevant movies throughout February including: Amistad, starring Morgan Freeman and Djimon Hounsou; the 2008 adaptation of A Raisin in the Sun featuring Phylicia Rashad, Sanaa Lathan, Harlem's Sean Combs and Audra McDonald; Panther with Courtney B. Vance, Kadeem Hardison and Chris Rock; Ruby Bridges, Selma, Lord, Selmaand more. Additionally, a one-hour documentary chronicling the civil rights movement, Trail of Hope: The Journey to Equality, will air on Sunday, February 18, 2018.
Photo of Doug E. Fresh by BOUNCE.
---