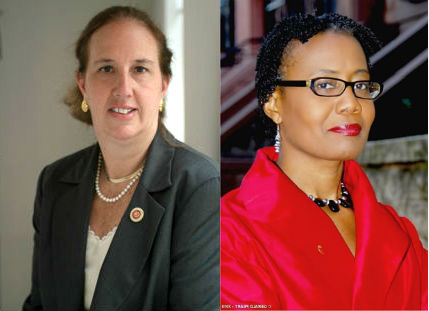 The New York Urban League (NYUL) is pleased to announce its approval for a grant of for $380,000 from the Manhattan Borough President, Gale A. Brewer (pictured – left), for Economic Development. These funds will support upgrades at the 136th Street office in Harlem, NY.
The goals of the project are to renovate the 2nd floor program space provide special spaces for activity space for classroom based programs, counseling services and workforce development programs.  The project will also convert former administrative spaces and renovate it to provide additional capacity building and technical assistance to small community-based nonprofit organizations in addition to updating the current heating and air-conditioning (HVAC) system to provide a comfortable environment to for all partakers of the NYUL workforce development, education, and technology services.
"These vital capital dollars will help make the space at NYUL available for more members of the community to learn STEM, improve computer skills, refine job seeking skills and connect to the legacy of the New York Urban League," states William D. Holiber, Chairman, New York Urban League Board of Directors; President and CEO, New York Daily News.
Arva R. Rice (pictured- right), President and CEO, New York Urban League would like to express gratitude to the Manhattan Borough President's Office and their commitment to making sure people of color are engaged in the technology revolution that is transforming our city.
Related Articles