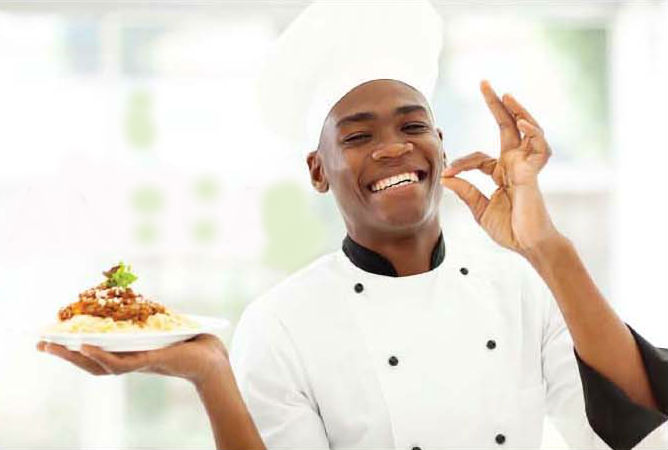 New York's best homegrown "Top Chefs" and "Divas with Dishes" will compete for the title of "King Chef" at the 20th Anniversary of Men Cooking For Change presented by Women In The Black. 
This Sunday afternoon event brings together over 50 chefs, caterers restaurateurs and plain old "good cooks" for a day of pure culinary indulgence. Join us Sunday, November 15th -3-8pm, at the Harlem Alhambra Ballroom (126th & Adam Clayton Powell Jr Boulevard.)
Celebrity judges will be on hand to taste and vote on the "Best Of" in eight select food categories, while the audience, by applause will choose the "Top Chef" for the night ( from these eight semifinalists.) If you or someone you know dishes it up with a "slap your momma" or "you put your foot in it" recipe that leaves people wanting more, then sign up today at www.womeintheblack.org.  Winning Chefs awarded trophies "Top Chef" awarded the prized 6-Foot Trophy and prizes, and his/her photo, and winning recipe will appear in The Harlem News.
Perhaps you are more of a "Foodie" than a chef, come enjoy four hours of the best food life has to offer. There will be home made, handcrafted, sautéed, steamed, stirred, diced and iced culinary treats to tantalize the taste buds.  Come cheer on your favorite chef. Tickets are all inclusive; food, drink, dancing, entertainment and groups are welcome.
Do not keep that family recipe to yourself come make a change in your community at this year's Men Cooking For Change Food Fundraiser. Women In The Black is a non-profit organization whose mission it is to help women start, build, lead and grow their business. The proceeds will under write scholarships to the 2016- "Who's The Boss" women business conference.
Buy tickets or register to be a chef online at: www.womenintheblack.org
For more information call:  212-631-1022
Related Articles
---
---