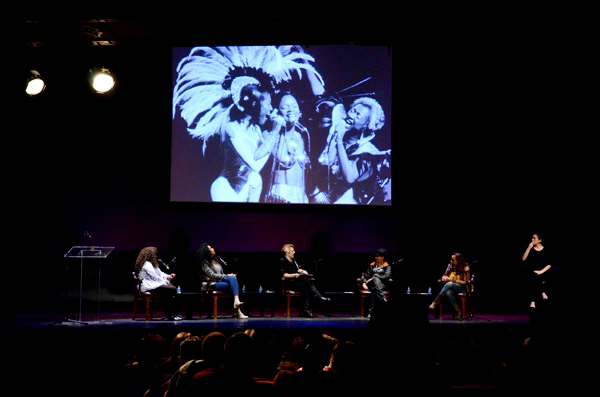 On the famed Apollo Theater stage, Rochelle Fleming of First Choice, Nona Hendryx of La Belle, Ruth Pointer of The Pointer Sisters and Cathy Sledge of Sister Sledge all got together with moderator Christian John Wikane for a conversation about them and their music.
It was an evening filled with vivid memories, photographs, concert footage and the thumping sound of 1970's disco music.  Between them they gave us many of the songs that we were dancing to and associate with certain times in our lives.  Lady Marmalade, Smarty Pants, We Are Family, and I'm So Excited to name a few.

From left, Nona Hendryx of La Belle, Cathy Sledge of Sister Sledge, Ruth Pointer of The Pointer and Rochelle Fleming of First Choice
The ladies talked about their music careers, how their music changed over time, and what it was like making music during the 1970's disco era. The audience listened to them speak about the relationships with their singing partners, band members, managers and record labels.
In some cases there were racial issues they had to deal with.  Nona Hendryx spoke a little about touring and not being able to stay or eat in many places traveling through the Jim Crow south when she was younger. Ruth Pointer remembers and talks with a little humor about when she and her sisters were booked to perform their country and western hit "Fairytale" at the Grand Ole Opry in 1974 to mark the inaugural Opry appearance by an African American vocal group.  They arrived and then ushered in through the back door and told to wait in the kitchen.  They thought it was somewhere to wait before going in to surprise everyone.  Not wanting to ruin the surprise they waited and waited until a man saw them and asked why they were in the kitchen? explaining why, the man then went ballistic because they were mistaken for the kitchen help. "Fairytale" did however go on to win a Grammy Award in 1975 for Best Country Vocal Performance.

As much as the music was the center of their activities with all of it's ups and downs, fashion and style played a very large roll in forming their stage image. The Pointer Sisters started out wearing their own clothes, until the ladies from their father's church found out that Ruth and her sisters loved wearing vintage clothes, they were flooded with great clothes from many different closets adding to the few designer clothes they had at the time.  Nona Hendryx and LaBelle on the other hand were more flamboyant wearing wild costumes as part of their evolving musical style. Sister Sledge primarily wore the clothes they liked when they first started but as their success grew they were able to start wearing clothes by top fashion designers.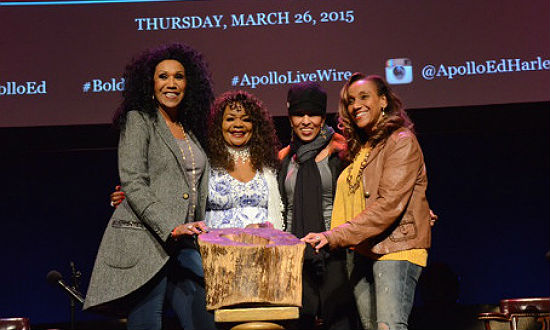 To see them looking up at themselves on the large video screen behind them, it was evident by their faces just how much they too were taking a trip down memory lane with the audience who have been at times singing and clapping to the images on the screen.  Among others in the audience that night was Melba More, Alfa Anderson and Norma Jean Wright of the band Chic who had worked with Sister Sledge on "He's The Greatest Dancer" record.  It was a great evening of conversation.  The program was a part of the Apollo Theater's education outreach program led by Shirley Taylor, Director of Education at the Apollo Theater Foundation Inc. https://apolloeducation.org
AUDIO: Prior to going on stage I had a chance to speak with Rochelle Fleming about her career, and what advice she had for anyone pursuing a career in music.
---
---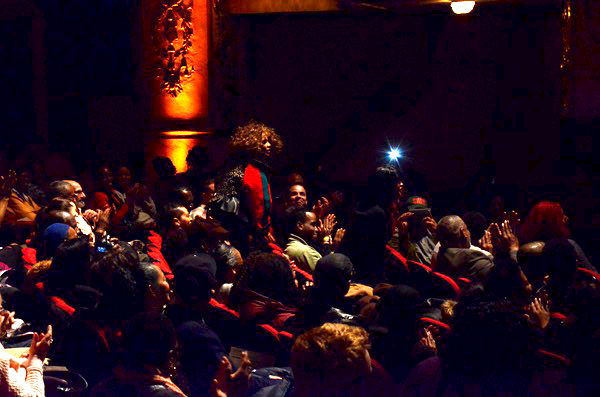 Related Articles