---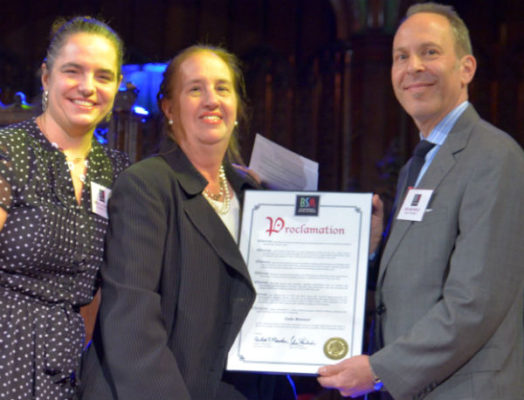 On November 11, 2017 the Broadway Presbyterian Church on 114th Street and Broadway in Harlem NY, was filled with over 200 supporters of music education and fans of Manhattan Borough President Gale Brewer who had gathered to celebrate the 52nd birthday of the esteemed Bloomingdale school of Music. In a week where our city was draped in disappointment following the presidential election, the beautiful sounds of music provided by Bloomingdale School of Music faculty Jocelyn Medina and Brandon Vazquez and their two ensembles, did much to lift the audience's spirits and filled them with a sense of hope that only music can provide.
Knowing how many times our Manhattan Borough President Gale Brewer has presented proclamations to others, Erika Floreska the school's executive director cleverly conceived of the school's very own proclamation which was given to Borough President Brewer with heart felt gratitude for her support of our school and her staunch and vocal advocacy for the value and importance of arts education for all our city's youth. Manhattan Borough President Brewer acknowledged the challenges we now face, but confirmed the belief that music and the other arts are what's needed most to carry us through.
Now in its 52nd year, the nonprofit Bloomingdale School of Music has served more than 80,000 children and adults through group classes, private instruction, and performance opportunities in classical, jazz, and rock music.
For more information www.bsmny.org
Photos taken by Chen Chu.
Related Articles
---