---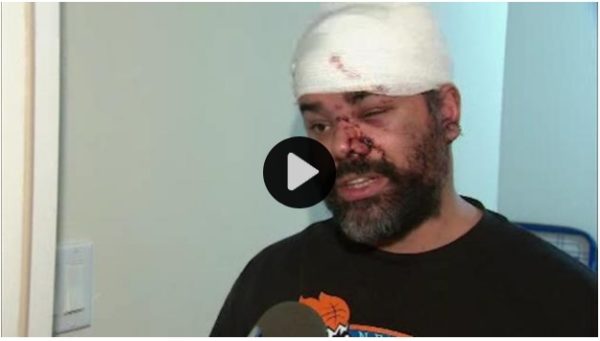 A blind man was slashed and his friend punched in the face during a dispute on an East Harlem subway platform that started as an argument on the train.
"My nose was literally hanging off. So they sewed it back on. My ear was dangling so they sewed that back up. I got five staples in the head," said Jason Camacho, victim.
Camacho can't believe he ended up like this after an argument over a seat on the train.
Camacho and his friend got on an uptown 6 train at 103rd Street Thursday night around 9 pm.
Camacho is legally blind and his 59-year-old friend noticed two men hogging multiple seats, so the friend told them to move over and let his disabled friend sit down.
Angry words turned to violence and spilled out of the train at the 110th Street Station onto the platform.
"They started throwing punches at me. The punches turned out to be stabs, knives at me. I got sprayed with the mace. He got sprayed with the mace. It was total mayhem," Camacho said. "I was covered in my own blood there was blood everywhere."
Police released images from the station of the men they believe are responsible for the attack.
Camacho has no sight in one eye and limited vision in the other.
He says he's a distant cousin of the late boxer Hector Macho Camacho.
Read the entire story and see the video HERE.
Related Articles
---